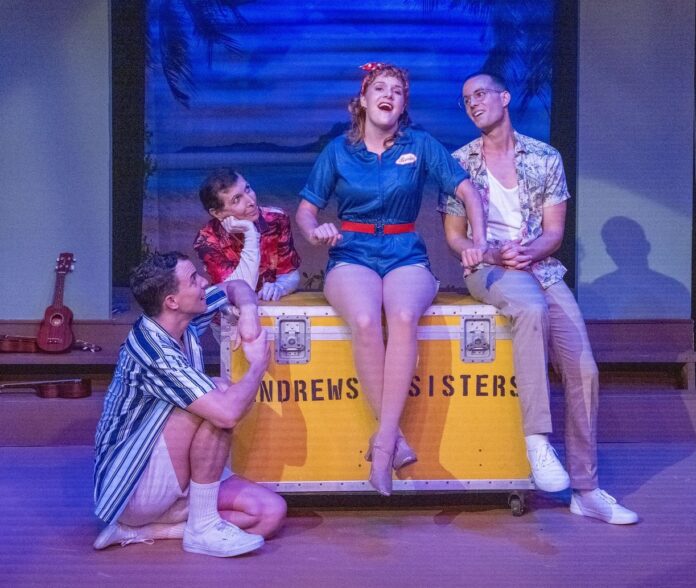 By Shari Barrett
Roger Bean's jukebox musical THE ANDREWS BROTHERS brings the excitement and great music presented at a 1945 USO show somewhere on a small island in the South Pacific to Theatre Palisades through October 8. The sung-through musical is sure to please those who remember the '40s first-hand, or those of us who appreciate the song stylings of those bygone days. Directed by Jennifer Novak Chun with choreography by Dana Benedict, and produced by Martha Hunter, Sherman Wayne and Holly Sidell, the Theatre Palisades cast features Destin Bass, Jeff DeWitt, K.B. Delude, and Tasha Taylor.
It opens with last-minute preparations underway by the Andrews Brothers, all 4-F and sidelined from serving in active duty, to make sure the planned USO show that night goes on without a hitch. But when The Andrews Sisters headliners get grounded due to illness, it falls upon the brothers (Destin Bass, Jeff DeWitt, and K.B. Dulude) and backup singer "Peggy the Pin-Up Girl" (Tasha Taylor) to go on with the show. Mistaken identities, zany adventures, a bit of cross-dressing, and the music of an entire generation highlight this valentine to the heroes of World War II, centers on love and lots of courage.
Tasha Taylor steals the show with her effervescence, keeping a smile on her face even when things go wrong. After all, as a singer from Seattle grateful for her first international singing engagement, Peggy has no choice but to be sure the show goes on! During the afternoon rehearsal in Act I, Peggy convinces the stagehand brothers to don the costumes of The Andrews Sisters and entertain the troops as if nothing has gone wrong by telling them, "The audience is far enough away not to notice you are men in dresses." And thanks to costumes designed by Martha Hunter, Hahnah Jackson and Maria O'Connor, the hoax works at first, as do all the wonderful 1940s ensembles worn by Taylor throughout the show.
Among the numbers presented are classic favorites "Ac-Cent-Tchu-Ate the Positive," "Boogie Woogie Bugle Boy," "Don't Sit Under the Apple Tree," "Mairzy Doats," "Rosie the Riveter," and "Three Little Sisters" among many others. Specialty numbers performed during the Act II USO show include an amazing baton routine by Taylor juggling 3 at a time to perfection during her "Doin' It For Defense" solo. Bass, DeWitt and Dulude are adept at physical comedy during their cross-dressing scenes, including enjoying their tap-dancing number with Taylor, even though opening night jitters seemed to keep a few from fully inhabiting their roles or harmonizing as effectively as the score mandates. But even so, the boys appear to be having the time of their lives and their enthusiasm will grab your attention, get your feet tapping, hands clapping, and inspire you to sing along. 
And be ready to play your part when two audience members are selected to participate onstage in two numbers, which generated very appreciative laughter from the audience during the "Six Jerks in a Jeep" song in which the two guests took on the roles of the "beep beep" horn and the Jeep's driver! And if you get selected, be sure to play along and have a great time in this fun number!
Along with the mentioned costume designers, kudos to the entire creative team including set designer Sherman Wayne, lighting designers Clayton Collins and Sherman Wayne, sound designer Susan Stangl, prop designer Maria O'Connor, and to Stage Manager Peter Miller for keeping the entire production running smoothly even when everything appears to be falling apart.
The Andrews Brothers performances take place through October 8 on Fridays and Saturdays at 8 p.m., Sundays at 2 p.m. at Theatre Palisades Pierson Playhouse, 941 Temescal Canyon Rd. in Pacific Palisades 90272. Free onsite parking. Tickets are $22 general admission, $20 seniors, students, and servicemen, available at https://app.arts-people.com/index.php?show=161067 or by calling the box office at 310-454-1970. Available tickets sold on site prior to each show. For more information about Theatre Palisades, visit https://theatrepalisades.org/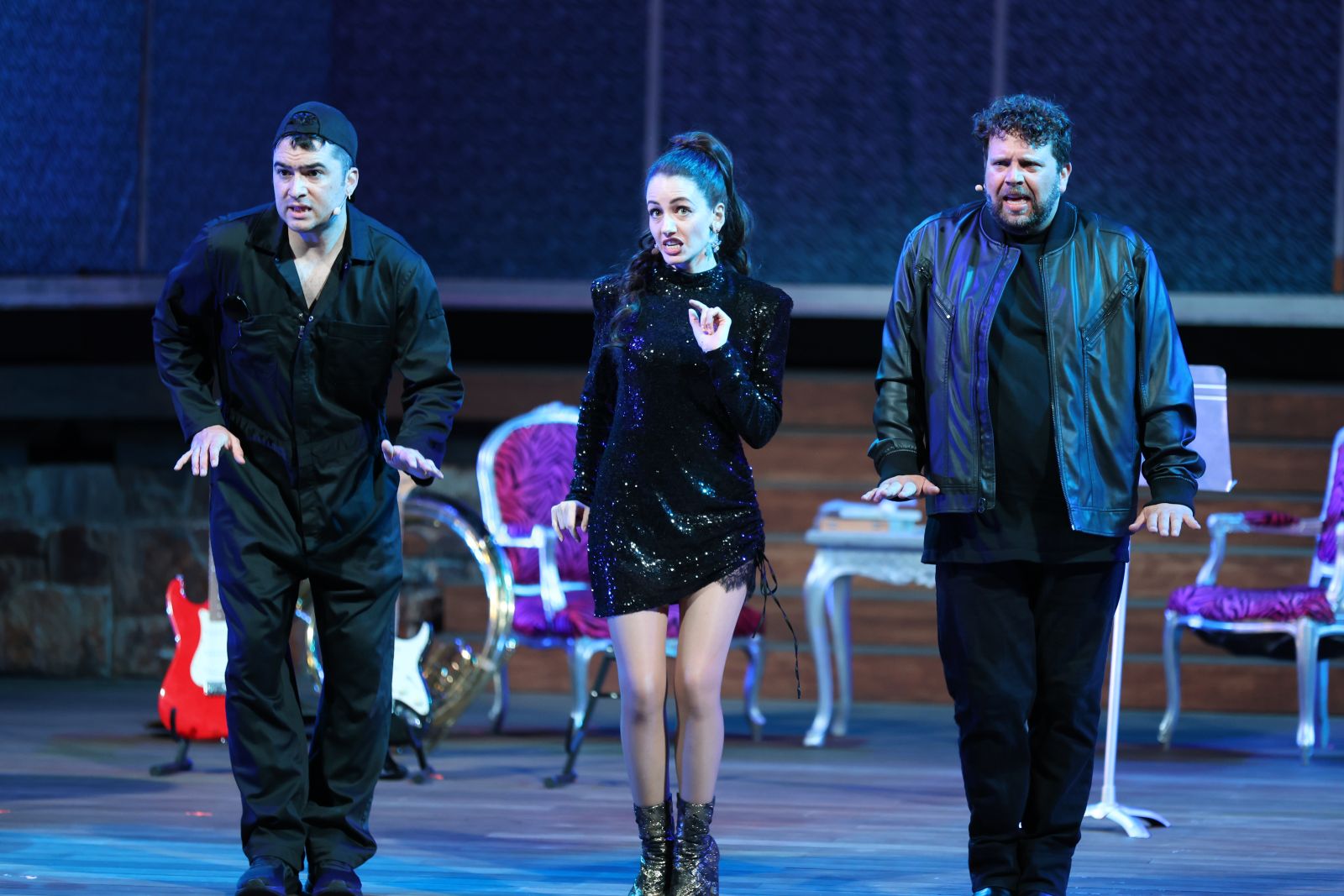 Based in Los Angeles, Pacific Opera Project (POP) brings updated classic operas and operettas to site-specific locations around town. Earlier this year, I attended their award-winning production of the Gilbert and Sullivan operetta THE PIRATES OF PENZANCE performed in English outdoors at Forest Lawn Glendale, which I thoroughly enjoyed. And recently I attended their one-night production of THE BARBER OF SEVILLE, considered to be one of the greatest masterpieces of comedic opera, composed by Gioachino Rossini with an Italian libretto by Cesare Sterbin. Performed in Italian outdoors on a beautiful night at the Ford Amphitheatre, English lyrics were broadcast on both sides of the stage, making it easier to follow along as the story of a young woman torn between two men in love with her was told to great comedic effect.
Classic characters in the opera include Sergio González as Count Almaviva, E. Scott Levin as Dr. Bartolo (a doctor of medicine who is Rosina's guardian), Meagan Martin as Rosina (a rich pupil in Bartolo's house), Johnathan McCullough as Figaro the barber, Andrew Potter as Basilio (Rosina's music teacher), Diana Farrell as Berta (a governess in Bartolo's house who looks after Rosina), Jared Jones as Fiorello (Almaviva's servant), Byron Mayes as the Police Sergeant, and ensemble members who portray police officers (each carrying two additional life-size dummy officers on their shoulders) and street musicians.
POP's updated to modern-time version kept the classic Italian score intact, with Rosina now a movie star just out of rehab and looking for both a stardom-making comeback job and the love of her life. Pulled back and forth between her secret lover Count Almaviva and her overbearing manager Bartolo, it takes the arrival of Figaro the Barber to literally tidy things up everyone, allowing the true lovers to live happily ever after. And to great comedic effect, Rosina's music teacher Basilio is portrayed as a modern long-haired hard rocker (think Alice Cooper) by the talented Andrew Potter!
This month, you can experience POP's production of HANSEL AND GRETEL by nineteenth-century German composer Engelbert Humperdinck, with libretto written by his sister Adelheid Wette, based on the Grimm Brothers fairy tale in which two sweet siblings get lost in an enchanted forest and stumble upon a Witch's gingerbread cottage. First presented in Descanso Gardens, POP is presenting six more FREE, family-friendly shows from September 9-24 on Saturdays and Sundays at 4 p.m. in King's Road Park, 1000 N. Kings Road, West Hollywood 90069, presented in partnership with the City of West Hollywood. Bring blankets, low-slung chairs, and a picnic to enjoy. Reservations recommended at https://www.eventbrite.com/e/hansel-and-gretel-free-theatre-in-the-parks-tickets-679768003397 
For more information about POP, its past and upcoming productions and education programs, visit https://www.pacificoperaproject.com/