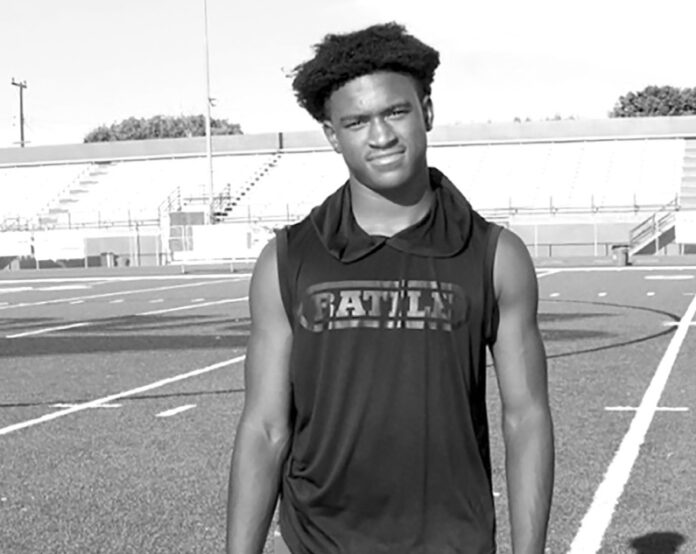 By Joe Snyder
Serra High junior running back Cincere Rhaney and senior defensive back-wide receiver Roderick Pleasant made the All-CIF Southern Section Division II team, named recently.
Rhaney rushed for more than 2,000 yards to help the Cavaliers to a second-place finish in the Mission League and the quarterfinals of the Division II playoffs where they fell to Mission champion Sierra Canyon from Chatsworth 42-16 on Nov. 11 at Serra.
Pleasant was one of the fastest prep football players in the United States as he tallied nine touchdowns, some on defense, kickoff and punt returns. On Feb. 1, Pleasant signed to play football at PAC 12 college University of Oregon. He is also seeking to compete on the Ducks' track and field team.
Pleasant has top times of 10.14 seconds in the 100-meter dash and 20.4 in the 200. Both were tops in the United States for high school in 2022. He won CIF-State championships in both sprints, becoming the first Serra athlete to accomplish those feats as a junior. He also helped the Cavaliers' 4×100-meter relay team finish second in the California State Championships, behind Fresno Central.
As a team, Serra won the CIF-Southern Section Division IV championship and placed third, behind champion Central and runner-up Upland, in the state finals at Buchanan High in Clovis. He is seeking to break 10 seconds in the 100, being just the second prep athlete to do that nationwide, and the first to break 20 in the 200. Matthew Boling of Jesuit High from Houston, TX has the national record time of 9.98 in the 100. Track and field season begins in early March.
In Division VI, North Torrance also had two make all CIF in seniors, running back-wide receiver Dylan Williams and fourth year starting varsity quarterback Trevor Lagarde. Lagarde completed his four-year prep career with 102 touchdown passes. Both keyed the Saxons to a second-place finish, behind Lawndale, in the Pioneer League. North lost in the first round of the Division VI playoffs to host Oak Park 29-12 on Nov. 4 in Agoura Hills. Lagarde moves on to play at NCAA Division II Liberty University in Virginia this fall.
In Division IX, West Torrance had junior linebacker Ryan McBride land on then team. He keyed the Warriors to a third place finish in the Pioneer League. The Warriors were eliminated in the first round by Laguna Beach.
CIF-Southern Section Division XIII runner-up Bishop Montgomery had eight players make the cut. These included senior quarterback Diego Rodriguez, senior offensive lineman Dominic Sellan, senior wide receiver Dominic Marchiondo, sophomore defensive back Ben Drewry, sophomore wide receiver Cameron Brewer, senior wide receiver Justin Austin, senior linebacker Jayden Thomas and senior linebacker Braedon Bifferstaff. The Knights had their best season since 1983 by making the Division XIII finals before falling to host San Gabriel 52-27 on Nov. 25.
Gardena closes Marine League with loss to SP
Gardena High's boys' basketball team ended the Marine League with a 66-56 home loss to San Pedro last Friday.
The Pirates led throughout most of the game but the Pan- thers made a good run late in the second quarter and the first part of the third period taking a 33-31 halftime lead and led 37-31 before seeing San Pedro, which finished second behind champion Narbonne in the Marine League, take the lead for good beginning with a 10-0 run. Dwayne Boston made a third quarter ending buzzer-beating three-point basket to cut the Pirates' lead to one (48-47).
The fourth period saw Gardena's offense go dry with only nine points as San Pedro pulled away for the 10-point win.
"We really never had them (San Pedro)," Gardena head coach Ernie Carr said. "We were ahead by a few points, but it only lasted 45 seconds."
Chase Williams led the Panthers, who are 13-15 overall and finished league at 5-5, with 18 points. Willie Denham added 16 points.
Nathan Cigar led all scorers with 21 points for the Pirates.
On Feb. 1 at Narbonne, Gardena fell to the Gauchos 47-38. Williams led the Panthers with 13 points. The Panthers tied for third place with Long Beach Rancho Dominguez Prep in Marine play. The two teams split their two games.
League champion Narbonne is the top seed in the CIF-Los Angeles City Section Open Division where it hosts No. 8 Westchester on Friday at 7 p.m. Marine runner-up San Pedro is also in the Open Division as the seventh seed as it visits No. 2 Birmingham in Lake Balboa.
Gardena will play in Division I as it begins as the fourth seed. The Panthers open at home against Los Angeles Center of Enriched Studies (LACES) on Friday at 7 p.m.
North Torrance High clinched its first Pioneer League championship since 2012 by edging host West Torrance 54- 52 last Thursday.
The Saxons enter the CIF-Southern Section Division VAA playoffs as the No. 2 seed and they began the playoffs on Wednesday at home against New Roads High from Santa Monica. If North wins, it will face either San Bernardino United Christian Academy or El Monte Mountain View at a site to be determined in the second round Friday at 7 p.m.
West had the task of opening at No. 2 seed Orangewood Academy in the first round of the Division IIIA playoffs on Wednesday in Garden Grove.
Torrance Bishop Montgom- ery is seeded No. 4 in the prestigious Open Division and the Knights will play three games in their pool, led by top seed Corona Centennial. Bishop Montgomery begins on Friday at home against No. 5 Sherman Oaks Notre Dame, which finished second behind No. 2 seed Studio City Harvard-Westlake in the Mission League but upset the Wolverines, who were No. 1 until the loss last week.
On Valentine's Day (next Tuesday), the Knights resume at home against No. 8 seed Chatsworth Sierra Canyon before closing the pool at Centennial on Feb. 17. The finals are on Feb. 25 at the Honda Center in Anaheim.
Serra closed its season at 9-18 overall and 0-8 in the Del Rey League with an 84-79 loss at St. Paul High in Santa Fe Springs on Jan. 30.
Pleasant signs at Oregon U. after lengthy decision
Serra High four-star defensive back recruit Roderick Pleasant made his decision to sign at PAC 12 University of Oregon after several months in deciding in front of a crowded Dwan Hurt Memorial Gymnasium at Serra on Feb. 1.
Pleasant, a football-track and field standout, chose Oregon over his other college finalist, University of Southern California. Shortly before, he also con- sidered Boston University, University of California and UCLA.
Pleasant could be one of the best athletes in the United States. As a junior in the 2021 football season, Pleasant was a key in helping the Cavaliers win the CIF-Southern Section Division III, CIF-Southern California Division IAA and CIF-State Division IAA crowns.
This past season, Serra finished at 7-5 but was second, behind champion and eventual CIF-Southern Section Division II champion Chatsworth Sierra Canyon, in the Mission League. Serra lost to the Trailblazers in the Southern Section Division II quarterfinals 42-16 after beginning the playoffs as the top seed while Sierra Canyon was eighth, due to Southern Section officials going by Maxpreps rankings.
The Trailblazers won Division II with a 23-7 home win over Inglewood on Nov. 26 but lost in the Southern California Regional Division IAA championship to San Diego Lincoln Prep 35-14 a week later. Pleasant scored nine touchdowns, including those on pick-sixes, kickoff and punt returns. He was among the fastest prep football players in the United States and one could see why.
As a junior last spring, Pleas- ant has national top times of 10.14 in the 100-meter dash and 20.4 in the 200 in keying Serra's boys' track and field team to the Southern Section Division IV championship and a third place finish, behind champion Fresno Central and runner-up Upland, in the California State Championships on May 28 at Buchanan High in Clovis.
He became the first ever Cavalier to win state in the 100 and 200 and he has more to go starting early next month when the 2023 track and field season begins. He will seek to become just the second ever prep athlete to break 10 seconds in the 100 and first to break 20 in the 200. The national 100 record is 9.98 set in 2019 by Matthew Boling from Jesuit High of Houston, Texas. The national prep record in the 200 is 20.13 set in 1985 by Roy Martin from Roosevelt High from Dallas, Texas.
Pleasant even has yet to break the CIF-State record in the 200 which is 20.3 set in 2015 by 2020 (2021 due to postponement from 2020 because of the COVID-19 Pandemic) Olympian Michael Norman from Vista Murrieta. Pleasant is seeking to go out for the Oregon track and field team and Oregon has one of the best college tracks and track and field stadiums in the nation. It has hosted the United States Olympic trials in 2016 and 2020 and is expected to host it, again, for the 2024 Games in Paris, France.
Pleasant is the second Serra athlete to sign at a PAC 12 col- lege. Linebacker Fred Williams signed early at California in December.
Cavalier running back Cordell Montgomery signed at Alabama State University on Feb. 1.
North Torrance quarterback Trevor Lagarde committed to Division II Liberty University of Virginia, but will not sign until Feb. 28.
Other local signings were by Narbonne High baseballer Eric Mora at NCAA Division II San Francisco State and girls' soccer standout Julia Quineney of Torrance, which, last week, won the Pioneer League title and on its way to the CIF-Southern Section Division I playoffs where it began Wednesday at No. 2 seek Santa Margarita, to Georgetown University, located near Washington, D.C.
North pulls out first place tie after routing West
North Torrance High's girls' basketball team avenged its earlier Pioneer League show- down loss to rival West Torrance 55-53 in overtime a few weeks ago by rolling over the host Lady Warriors 62-39 last Thursday.
The Lady Saxons used a stiff defense and virtually shut down two of the top West players in Nicole Chuang and Kendall Oda. North held Chuang without a field goal as she scored only one point and Oda, who averaged nearly 20 points a game, had only nine.
The game started close with North clinging to a 17-15 lead after the first quarter but the Saxons began to pull away by late second period. A 9-0 run led North to a 31-19 halftime lead.
Leading 42-28 after three quarters, the Saxons scored the first seven points of the fourth period and continued their commanding lead from there.
With the win, North is tied for first place in league with West but the Saxons get the first place seed in the CIF-Southern Section Division I playoffs. North, which is 17-6 overall after going 11-1 in Pioneer play, opens today at 7 p.m. against Bay League team Peninsula High from Rolling Hills Estates. The Panthers, who were preseason favorites to win the Bay title, ended up just fifth, only ahead of hill rival Palos Verdes, in the highly competitive league due to a rash of injuries and illnesses. North, though, will have to watch out for high scoring forward Jadyn Lee.
West begins Division I play at home against Santa Fe Springs St. Paul from the always highly competitive Del Rey League. St. Paul finished third, behind champion Torrance Bishop Montgomery and runner-up Pasadena La Salle (top seed in Division IIAA), in Del Rey action.
The Lady Knights, meanwhile, are last seed in the eight- team Open Division, led by No. 1 Chatsworth Sierra Canyon, also top ranked in the United States by Maxpreps. Bishop Montgomery begins play on Saturday at Sierra Canyon. The Knights will visit No. 4 Sage Hill Prep in Newport Beach next Wednesday before closing pool play at No. 5 Ontario Christian.
Torrance, which placed third in league, will play in Division IIIA as it opens at Hillcrest High in Riverside today at 7 p.m.
Gardena closed league with lopsided losses to visiting Narbonne 75-25 on Feb. 1 and 61- 19 to host and Marine champion San Pedro last Friday. The Lady Panthers finished fifth, ahead of last place Long Beach Rancho Dominguez Prep, in league at 2-8 and were 5-16 overall.
The Lady Panthers, though, made the CIF-Los Angeles City Section Division III playoffs as the No. 16 seed and began last Tuesday at home against No. 17 Bernstein from Hollywood.
Bernstein won the non-league game 45-29 at home against Gardena in late November.
Serra ended one of its worst seasons in its 30-year girls' basketball history with lopsided losses to the top two teams in the Del Rey League. At Serra on Jan. 31, the Lady Cavaliers fell to Pasadena La Salle 56- 30. Last Thursday at Bishop Montgomery, the Lady Knights finished off Serra 69-20. The Cavaliers ended league play at 0-8 and had an overall mark of 2-22. With an extremely young team, Serra hopes to make vast improvement next season.