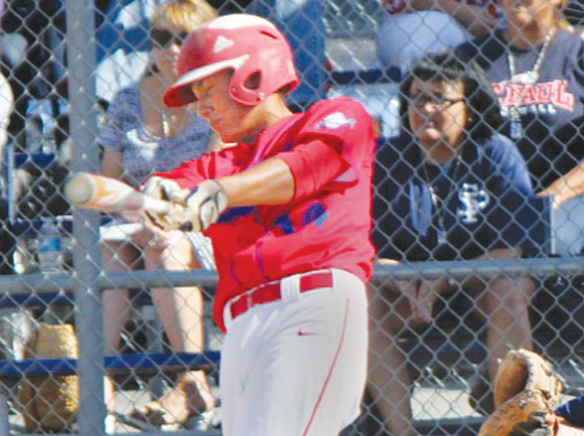 Serra tops St. Paul to share Del Rey League title
By Joe Snyder
GVN Correspondent
Serra High's mostly young and inexperienced baseball team was able to pull off a tie for the Del Rey League championship with Bishop Amat of La Puente by avenging its lopsided 12-1 loss at St. Paul in Santa Fe Springs on May 12 with an 8-2 home victory two days later.
Serra tops St. Paul to share Del Rey League title
By Joe Snyder
GVN Correspondent
Serra High's mostly young and inexperienced baseball team was able to pull off a tie for the Del Rey League championship with Bishop Amat of La Puente by avenging its lopsided 12-1 loss at St. Paul in Santa Fe Springs on May 12 with an 8-2 home victory two days later.
The Cavaliers used a pair of four-run innings in the bottom of the first and fourth and junior winning pitcher Mateo Brambila and reliever Marcus Wilson were able to hold down the Swordsmen to only four hits to preserve their seventh league victory against three losses.
Brambila started out struggling, giving up two walks and a base hits to load the bases with one out in the top of the first, but Denz'l Chapman got things started for Serra with a two-run home run. Wilson followed with a double. A pair of errors brought home Wilson and Shane Early, who was awarded second base on a miscue at third base.
Brambila continued to struggle with three bases on balls that led to two runs without a hit as St. Paul cut Serra's lead to 4-2.
In the bottom of the fourth, the Cavaliers pulled away. Daniel Wheeler led off the inning with a double that was followed by a single from Laurington Williams putting Wheeler at third. One out later, Chapman, who was 2-for-4 and drove in three runs, singled home Wheeler. Back-to back walks from Swordsman pitcher Emilo Sansopes, scored Williams. Tilque singled home Chapman and Wilson scored on another base hit from Hector Ramos.
"I'm proud the way the kids came in emotionally ready," Serra head coach Wilmer Aaron said. "We were able to jump on them. We played our Serra baseball."
The Cavaliers, who are 13-11 overall, move on to the CIF-Southern Section Division III playoffs in defense of their crown from last season. It will not be easy, though. They must travel to Golden West League champion Loara High in Fullerton in the first round on Friday at 3:15 p.m. If they win that game, they could face a match-up against top seeded Palm Desert at a site to be determined next Tuesday at 3:15 p.m.
Palm Desert, meanwhile, opens at home against Wednesday's wildcard winner between Ocean League third place team Hawthorne and the Golden League third place squad Palmdale Friday at 3:15 p.m.
__________
Jackson DQ'ed from long jump in Division IV Prelims
By Joe Snyder
GVN Correspondent
In a way many would not think an athlete would be disqualified, it happened to premiere Serra High long jumper Adoree Jackson at last Saturday's CIF-Southern Section Division IV Track and Field Prelims at Carpinteria High in South Santa Barbara County.
After already leaping a meet best 23 feet, 7.5 inches, Jackson walked over to see a video footage of his long jump. When officials viewed him there, they disqualified him from the event for violating a new policy passed by the National High School Sports Federation that went into effect at the start of this school year. That was receiving communication electronically on viewing video footage of himself.
Prior to this season, Jackson, who is already headed to University of Southern California on a football scholarship but also plans to compete in the long jump and some sprinting events on the Trojan track and field squad, was setting a goal to be the first high school jumper to go 27 feet and break the United States national prep record.
So far, his best was 25-0.5 inches he did in winning the Arcadia Invitational on April 12, but he had a foot injury that sidelined him from the Mt. San Antonio College Relays in Walnut.
He won the Del Rey League title at 24-4 on May 7 at Monrovia High.
It is, at least, one of the best in the nation, although Nathan Moore from Castro Valley, last season's California State long jump champion at 24-9, jumped a wind aided 25-10 at the Mt. SAC a week later.
Sources are that Moore already has an official jump of 25-4 in a later meet.
Jackson, though, will still compete at Saturday's Division IV Finals in the 200-meter dash and the 4×400 relay at Cerritos College.
He had a meet best time of 21.97 seconds in the 200, then ran the anchor leg of Serra's 1,600 relay with Ronald Hall, Stefon Gordeau and Jordan Lasley for a meet best time of three minutes and 22.22 seconds.
Hall also had the meet's top time of 48.72 in the 400 and was second, overall, in the 200 at 22.45.
Senior Jeremy Franklin had meet best marks of 56-1 in the shot put and 164 feet in the discus.
On the girls' side, Serra freshman sensation advanced in the 100, 200 and 4×100 relay. Reed had a meet top time of 25.0 in the 200, was third in the 100 (12.25) and ran the third leg of the 400 relay, which finished third overall clocking 47.52. Other runners included Madison Golden, Gertrude Martin and Kayla Pickens.
Sophomore Jeanette Paul qualified in both hurdles. She had the top overall time in the 300 in 44.2 and was second in the 100 (14.71).
Serra's 4×400 relay squad of Golden, Martin, Pickens and Reed were second overall timing 3:54.81.
The finals, which include four divisions, begin at 11 a.m. with the field events and 1 p.m. in the running events.
The top 9-12 overall will vie in the Southern Section Masters Championships at Cerritos College on May 30.
The California Championships are at Clovis Buchanan High's Memorial Stadium on June 7 and 8.
__________
National Football League picks up three former Serra stars
By Joe Snyder
GVN Correspondent
From the period of May 8-10, three former Serra High football standouts were drafted by National Football teams.
In the second round, University of Southern California junior wide receiver Marqise Lee was selected 37th overall by the Jacksonville Jaguars. Paul Richardson from Colorado was also taken in the second round by the recent Super Bowl champion Seattle Seahawks, head coached by ex-USC mentor Pete Carroll.
Bene Benwikere from San Jose State University was selected in the sixth round by the Carolina Panthers.
These three, along with then senior star Robert Woods (also played at USC), played together on Serra High's 2009 CIF-Southern Section Northwestern Division and California State Division III championship squad.
That means that the squad has four of those players who will be playing in the NFL beginning this summer.
Lee also keyed Serra to the Southern Section Western Division crown and a spot in the State Division II Bowl where it lost to Folsom High, 48-20, in the 2010 season. He also long jumped with USC's track and field squad.