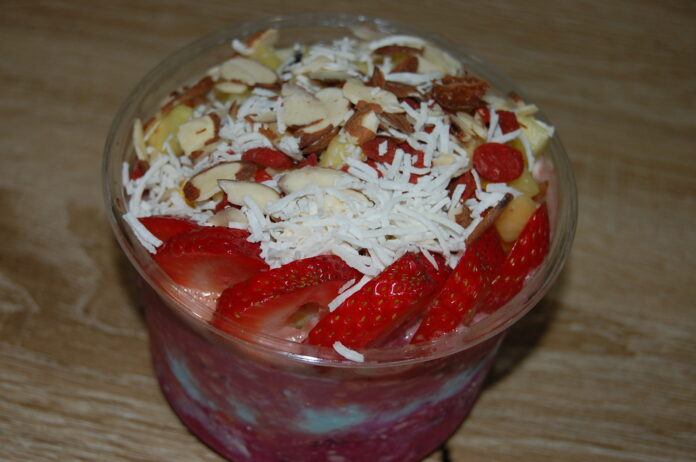 By Brett Callwood
"We are a small family owned business bringing Fresh Press Cane Juice to the South Bay Area," reads a blurb on Su-Cane's website. "We hope you enjoy our Fresh Press Sugarcane and delicious Açaí Bowls."
Well, the good news is that we really did. As the rainy mornings gave way to the sort of sunshine that we expect at this time of year in Southern California, an Açaí Bowl sounded like the perfect, sweet and cold treat. The healthy alternative to ice cream and a wonderful breakfast food, Açaí Bowls really have seen their popularity explode in recent years.
The restaurant itself is visually lovely. While indoors, it's decorated like a conservatory or patio, with rustic wooden tables, lots of plantlife, and even an immaculate yellow scooter in one corner. 
Meanwhile, the staff are incredibly friendly and helpful. If you have any questions about how the "build your own" portion of the menu works, or about any ingredients, they'll help immediately and with a smile. As a result, the ordering experience is a joy from start to finish.
The accurate and authentic name of an Açaí Bowl is Açaí na Tigela, which literally translates to "Açaí in the bowl." It's a Brazilian dish, the base of which is the mashed fruit of the Açaí palm. Super healthy, by itself the fruit is earthy and bitter so the additions to the bowl are key.
That "build your own" option allows you to create a bowl to your own taste, and they have a lot of fresh, delicious options. We went with a base of blood orange, dragonfruit and blue pina colada. We added toppings of coconut almond granola, goji berries, pumpkin flax, almond slices, and unsweetened coconut. We then added five fruits – banana, blueberry, strawberry, mango and pineapple. There was also a kiwi option.
You can add drizzle, with choices including agave honey, almond butter, Nutella or chia pudding, but we didn't. 
The resulting concoction was delightful. All of the fruity, refreshing glory of a smoothie but with the thick consistency and additional toppings of a dessert, you really feel like you're indulging in a naughty treat. 
Su-Cane also specializes in juices, and they have a full menu to choose from. The fruit that they have on offer is seasonal and can vary, but it's always delicious. Treat yourself this summer. 
Su Cane is located at 15420 S. Western Ave., Ste F, Gardena 90249. Call 310-756-6487, or visit su-cane.com.