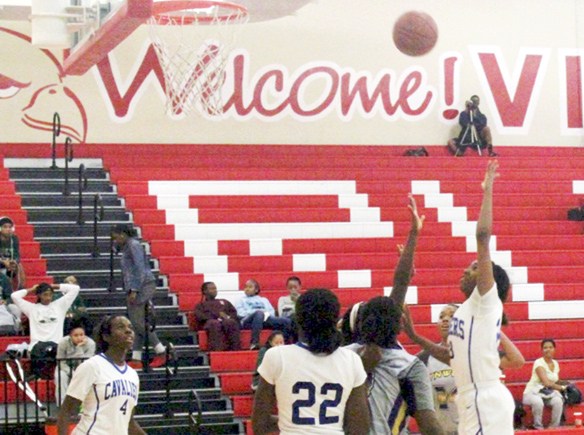 Since McKenzie Hadley took over Serra High's girls' basketball program seven years ago, it moved up from a struggling program to a powerhouse one that included CIF-Southern Section and one California state championship squad.
Since McKenzie Hadley took over Serra High's girls' basketball program seven years ago, it moved up from a struggling program to a powerhouse one that included CIF-Southern Section and one California state championship squad.
This year's edition is predominantly new after losing all five starters from the 2013-14 team that made it to the semifinals of the new and prestigious CIF-Southern Section Open Division and the finals of the Southern California Regional Division IV before losing to Chatsworth Sierra Canyon. A year earlier, the Lady Cavaliers captured the California State Division IV title over Salesian High from Richmond.
Despite all five starters gone, Serra does return a key reserve and part-time starter Nautica Morrow and she managed to have a good showing in last week's Redondo Battle at the Beach Classic where it was 2-2 for a sixth place finish.
Hadley, though, hopes that the Cavaliers will really pick up when a pair of 6-foot-3 transfers from Renaissance Academy of Long Beach in senior Nashanaelle Dambo and Lowendie Latoral become eligible.
In the Redondo Tournament, Serra began with a 58-38 victory over defending CIF-Southern Section Division IIA champion West Torrance on Dec. 1. Two days later, the Cavaliers took on nationally ranked Long Beach Poly (12th in the United States) and lost 57-46. Serra returned to its winning ways with a 65-57 win over Lynwood in the fifth place semifinals. In the fifth place final on Saturday, the Cavaliers lost to Vista Murrieta 50-45.
Against Vista, Briaina Johnson led Serra with 12 points, seven rebounds and three assists. Morrow added 11 points and 10 rebounds. Brijaya Brackett chipped in six points.
Kristi Jones of Vista led all scorers with 15 points.
Morrow had a game-high 29 points in the Cavaliers' fifth place semifinal win over the Knights on Friday.
Johnson and Delauna Thomas each contributed nine points.
Serra led most of the game, although much of it was close until Destiney Baker put it away with a pair of free throws with 36 seconds left.
Morrow had 21 points in the Cavaliers' loss to Poly, which went on to win the tournament with a 63-57 victory over last year's California State Division II champion Chaminade from West Hills. Last season, the Jackrabbits won the state open division crown over Oakland Bishop O' Dowd.
Brackett led Serra with 17 points, followed by Morrow with 15 in its win over the Warriors in the first round.
Just two days before Christmas, on Dec. 23, the Cavaliers will host last year's Southern California Regional Open Division finalist (lost to Poly) Etiwanda starting at 2 p.m.
Carson-Narbonne Football
Narbonne returns to City championship by downing rival Carson
By Joe Snyder
Sports Editor
After a disappointing loss to Crenshaw in last season's CIF-Los Angeles City Section Division I final, Narbonne High's football team avenged its narrow 39-35 Marine League loss to Carson from Oct. 31 by defeating the injury plagued Colts 33-20 to capture the championship last Saturday at the Los Angeles Memorial Coliseum.
It was a couple of big play touchdowns that proved to be the difference in the Gauchos' win.
Carson, which finished its season at 10-4, took an early 3-0 lead on a 3-0 lead but Narbonne took a 7-3 lead later in the first quarter on an 81-yard TD pass to Ikenna Ohaeri.
The Colts, led by all-around player Jabari Minix, took a 17-13 halftime lead on a 13-yard scoring run and an 89-yard kickoff return for a touchdown, but Narbonne (10-4) held him down in the second half. The Gauchos, in fact, held Minix to just three second half rushing yards, compared to 60 in the first half.
Narbonne immediately started the second half when Sean Riley took the opening kickoff 89 yards for a TD that gave the Gauchos a 19-17 edge and they never trailed from there.
On the next drive, Riley set up Narbonne's next touchdown on his 21-yard run and Damion Gatlin scored on a 2-yard run to give the Gauchos a 26-17 lead.
Gatlin finished with three touchdowns, his third coming in the fourth quarter that sealed Narbonne's fifth City crown under head coach Manuel Douglas.
Carson played without starting quarterback Kiki Flores, who suffered a torn meniscus in the Colts' quarterfinal win over defending City champion Crenshaw on Nov. 21 at Carson, and backup quarterback and running back Devonte King with an ankle injury.
That forced Minix to play quarterback.
For the Gauchos, Ale, a junior, completed seven of 10 passes for 134 yards and one TD.
Despite the City title, Narbonne was not selected for the California State Open Division nor Division I Bowl series due to the stiff competition but with most of its starts back for next season, the Gauchos will be looking at getting into the state bowl series. Narbonne got in two years ago but lost to Corona Centennial. Centennial, which eliminated Serra in a wild 68-64 Southern Section PAC Five first round playoff game on Nov. 14 in Corona, won the Southern Section PAC Five title in a 48-41 upset victory over top seed and nationally ranked Bellflower St. John Bosco (fourth in the United States) last Saturday at Angel Stadium in Anaheim and was selected to play in the Open Division bowl game against Northern California power Concord De La Salle on Dec. 20 at the StubHub Center on the Cal State Dominguez Hills Campus in Carson. There will be no regional bowl game in the Open Division but in other divisions.
Southern California Regional games on Friday will be Fresno Edison at Oceanside in Division I and San Juan Capistrano St. Margaret's vs. El Cajon Christian at El Cajon Granite Hills in Division IV.
On Saturday in Division II will be Bakersifield Ridgeview at Redlands East Valley and it will be Paso Robles at San Diego County Lakeside El Capitan in Division III.
All playoff games begin at 7:30 p.m.
Winners will face Northern California winners at the StubHub Center on either Dec. 19 or 20.
Sports Scoop
Donavan goes out a champion as Galaxy top Revolution for MLS crown
By Joe Snyder
Sports Editor
No doubt, the goal for the Los Angeles Galaxy Major League Soccer team to make legend Landon Donovan go out a champion after he decided to retire after the season was over back in July.
That goal was accomplished. L.A. outlasted the New England Revolution 2-1 in overtime for the title last Sunday at the StubHub Center on the Cal State Dominguez Hills Campus in Carson.
It was the Major League Soccer's Most Valuable Player and Irish sensation Robbie Keane that scored the winning goal in the 111th minute that gave the Galaxy their league record setting fifth championship. For Donovan, it was also his sixth, including fourth with the Galaxy. He won one in 2003 and 2004 with the San Jose Earthquakes.
L.A. has now won three championships in the past four seasons including ones in 2011 and 2012 behind now retired British sensation David Beckham.
Donovan, who was the league's Most Valuable Player in 2011 and leads the MLS in all time goals and assists, did not score any goals nor assist in any but did have a key pass that led to the first goal scored in the 52nd minute from Gyasi Zardes off an assist by midfielder Stefan Ishizaki. Zardes is a former standout at Lawndale Leuzinger High and grew up in Hawthorne.
Leonardo scored the tying goal for the Revolution in the 79th minute. The match remained tied at one that forced the automatic two 15-minute overtime periods. Keane made sure they did not have to go into penalty kicks.
Gardena Splits at Mira Costa: Gardena High's boys' basketball team went 2-2 in last week's Mira Costa Pacific Shores Tournament.
After a 53-44 first round win over Torrance on Dec. 2, the Panthers lost their second game to eventual champion Brentwood 61-30 on Dec. 3. A day later, Gardena thrashed Marine League rival Banning 61-18. In the third place game last Saturday, the Panthers fell to an always very good Harvard-Westlake squad from North Hollywood 65-43.
Gardena is 3-2 overall.
Brentwood won the title over host Mira Costa 57-53 Saturday in Manhattan Beach.
The Panthers have a home non-league contest against Verbum Dei last night and will host Monterey Park Garfield Friday at 7 p.m. in another non-league contest.
Gardena begins Marine League play at Banning in Wilmington next Monday at 4 p.m.
College Bowl Games: After UCLA's football team downed rival University of Southern California 38-20 on Nov. 22 at the Rose Bowl, it all turned around the following week. A day after Thanksgiving on Nov. 28, Stanford ended the Bruins' hopes of a PAC 12 Southern Division title with a 31-10 victory over the host Bruins. In a legendary non-conference contest, it was the Trojans that crushed Notre Dame 49-14.
UCLA's playoff and Rose Bowl hopes ended but the Bruins will play on Jan. 2 in the Alamo Bowl against Big 12 power Kansas State beginning at 3:45 p.m. in San Antonio, Texas.
USC is in the Holiday Bowl in San Diego against University of Nebraska on Dec. 27 at 5 p.m.
Both games will be broadcasted on ESPN Cable.
Oregon ended up winning the PAC 12 crown and made the top four-team playoffs where they open at the Rose Bowl against Florida State on Jan. 1 (New Year's Day) at 2 p.m.
The other playoff classic is the Sugar Bowl at the Superdome in New Orleans where Alabama faces Ohio State.
The winner of each game plays in the College Football Championship (nice to call it the College Super Bowl) in Arlington, Texas on Jan. 12. The contest is on ESPN beginning at 5:30 p.m.
Southern Division champion Arizona will not go too far as it travels to Glendale, Az. To take on Boise State from Idaho on New Year's Eve (Dec. 31) at 1 p.m. Stanford also does not go very far as it travels to Santa Clara for a Fosters Farms Bowl against Maryland on Dec. 30 at 7 p.m.
South falls in state final: South Torrance High's girls' volleyball team made history by advancing to the California State Division II final for the first time against San Jose Archbishop Mitty last Saturday at Santiago Canyon College in Orange.
Unfortunately Mitty, ranked No. 1 in the nation in some polls, proved too much for the Spartans. South lost in four games 25-12, 25-18, 20-15, 25-19.
The Spartans finished their season at 31-10 overall after winning the Pioneer League, along with CIF-Southern Section Division IIAA and Southern California Division II titles over Sun Valley Village Christian.
In the Division I final, a division that many felt that Mitty (which played several times in earlier seasons including against traditional Southern California and national power Mira Costa), it was Redondo that captured its first state crown by sweeping Turlock Pitman 25-23, 25-18, 25-21.
Over the past few years, the Sea Hawks, under highly regarded head coach Tom Chaffins, won three consecutive Bay League championships over rival Mira Costa. Earlier, Redondo won the CIF-Southern Section Division IAA and Southern California Division I titles over Santa Ana Mater Dei.