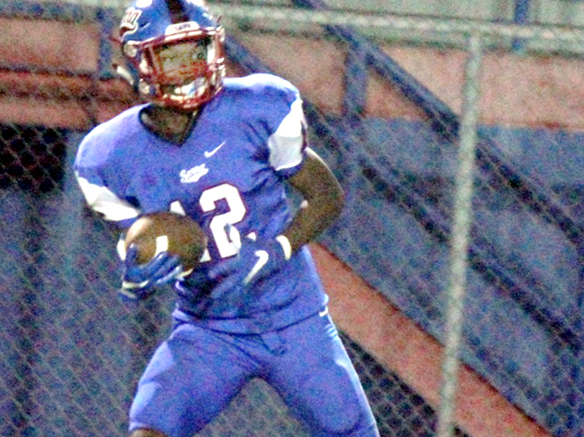 Serra High's football team got off to a very good start, then its defense made several clutch plays to hold off Cathedral High from Downtown Los Angeles 21-19 in their non-league finale last Friday at Serra.
The Cavaliers, who finished preseason at 3-2, stormed out to a 14-0 lead in the first quarter before seeing the Phantoms make a desperate rally.
Serra made a pair of sacks on Cathedral quarterback Mekhi Jordan, one of those a strip sack from Tyray Odell, that ended any threat for the Phantoms, who lost their second straight game after opening the season with four straight wins.
The Cavaliers' defense especially did well in the first half, holding Cathedral to just 59 total offensive yards and three first downs in grabbing a 14-0 lead.
Serra scored on its first drive that was capped on a 3-yard touchdown run by Melquan Stovall for a 7-0 lead. Late in the first quarter, the Phantoms fumbled away the ball to Justin Pinkney who ran the ball to the Cathedral 7-yard line. From there, quarterback Doug Brumfield connected with wide receiver Justin Lockhart to give the Cavaliers a 14-point lead.
Neither team scored in the second period but the Phantoms were able to get six points when on his 4-yard TD run from Brandyn Jordan with 7:38 left in the third quarter. The point after touchdown attempt fell wide to the left.
A little over a minute later, it was Brumfield that found Lockhart wide open as he cruised into the end zone for a 60-yard score and a 21-6 Serra lead.
Cathedral, however, made things interesting in the fourth period. Brandyn Jordan scored from 10 yards out. The Phantoms attempted a two-point conversion but a run fell short.
Brandyn Jordan scored his third touchdown on a 2-yard run and the PAT was made that cut Serra's lead to two.
The Phantoms recovered an onside kick but that's when the Cavalier defense took over to end any chance for a Cathedral comeback.
"It was exciting but we need to get better," Serra head coach Scott Altenberg said. "We're young and we made a lot of mistakes. We are also banged up."
The Cavaliers had to play the game without wide receiver Ron Gilliam and linebacker Anthony Bower. Serra is also young and lacks depth that it had in numerous previous seasons.
Serra will need to improve and get healthy as it opens the Mission League at Notre Dame High in Sherman Oaks Friday at 7 p.m. The Knights finished their non-league play in good fashion by routing CIF-Los Angeles City Section school Birmingham High from Lake Balboa 49-12 last Friday at Notre Dame.