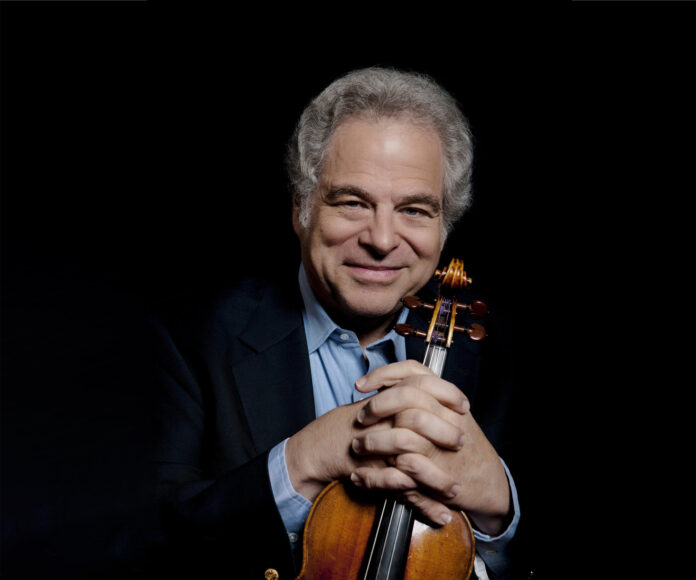 by Shari Barrett
My week of musical entertainment began on Wednesday evening, Sept. 13, when Itzhak Perlman, beloved violin icon, returned to the Hollywood Bowl to perform Bach's dynamic double concerto on violin with Randall Goosby, and then conducted the LA Philharmonic Orchestra with Tchaikovsky's passionate Fourth Symphony. It was a perfect night to enjoy classical music in the most wondrous outdoor setting in the Hollywood Hills after such a long, heat wave finally broke and cool breezes wafted through the air along with the magnificent virtuoso musicians performing at the peak of their talent.
Perlman, now confined to a mobile scooter, did not let it slow him down one bit, attacking the music from deep within his psyche to share the joy he can bring to the souls of his audience. Paired with Randall Goosby, a remarkable violinist in his own right, matched Perlman's skill note-for-note along with his magnificent stage presence and humor as they performed Bach Concerto in D Minor for Two Violins and String Orchestra. As a bonus, the two returned to the stage for an encore, brilliantly weaving their wonder together through LeClair Sonata for 2 Violins in E Minor prior to intermission. And what a joy it was to then watch Perlman conducting Tchaikovsky's passionate Fourth Symphony with great skill and grace during the second half of the show. These two talented violinists, along with the LA Philharmonic, again proved why every performance at the Bowl will be etched in your memory as a memorable, magical experience! Please note facial masks are optional outdoors but required indoors.
The Hollywood Bowl is celebrating 100 Years of entertaining Los Angeles audiences, rounding out the month of September with, among others, Abba the Concert on 9/23, Grace Jones on 9/25, and Herbie Hancock on 9/2. For a complete schedule and tickets, visit www.hollywoodbowl,org. Also visit www.hollywoodbowl.com/first100years to view a free 10-episode podcast series created by the LA Phil which shares never-before-told and long-since-forgotten stories drawn from dozens of oral history interviews and thousands of documents from the Bowl's archive and historical collections.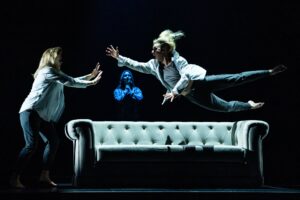 The Los Angeles premiere of the Tony and Grammy Award-winning musical JAGGED LITTLE PILL is rocking the Hollywood Pantages Theatre through October 2, 2022. Inspired by the seminal rock album of the same name by seven-time Grammy Award winner Alanis Morissette, the touring company production is directed with tons of excitement and emotional depth by Tony Award winner Diane Paulus. The original story by Tony and Academy Award-winning writer Diablo Cody centers around a perfectly imperfect American family that loves unconditionally but keeps the darkest of secrets from each other.
Ignited by Morissette's groundbreaking lyrics and music, including "You Oughta Know," "Head Over Feet," "Hand In My Pocket," and "Ironic" and brand new songs written for the show, JAGGED LITTLE PILL features explosive choreography by Tony Award nominee and frequent Beyoncé collaborator Sidi Larbi Cherkaoui, and the raw power of an onstage band under the Musical Supervision, Orchestrations & Arrangements of Grammy, Tony and Pulitzer Prize winner Tom Kitt.
Leading the cast as the family matriarch Mary Jane Healy is Heidi Blickenstaff, reprising her role from the Broadway production, whose struggle with addiction and recovery is brilliantly on display during a dual-sided character ballet during "Uninvited." She is joined by Lauren Chanel as her daughter Frankie Healy, Chris Hoch as husband Steve Healy and Dillon Klena as their son Nick Healy. The cast also includes Jade McLeod who rocks the house as Frankie's jilted girlfriend Jo during a show-stopping, belting version of "You Oughta Know" and Allison Sheppard as Bella, a young woman and social drinker who suffered a sexual assault that unites friends as sides are taken.
The athletic energy and enthusiasm of the talented ensemble lift every production number into exciting, breathtaking heights. And kudos to the entire award-winning creative team whose skills combine to create a visually stunning eye-popping and soul-searching experience. Tickets to the Tony and Grammy awarding-winning production of JAGGED LITTLE PILL at the Hollywood Pantages are available at www.BroadwayInHollywood.com  It is strongly recommended that patrons wear facial masks while indoors, but not required. More show information at www.jaggedlittlepill.com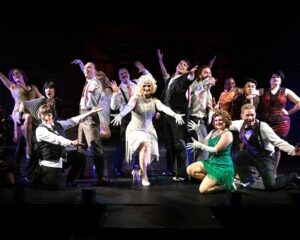 THE WILD PARTY with book, lyrics, and music by Andrew Lippa, adapted from the 1928 narrative poem by Jospeh Moncure March, has finally arrived at the Morgan-Wixson Theatre in Santa Monica after a 2.5-year pandemic-induced delay. And it was definitely worth the wait thanks to the emotional-depth directing skill of Kristin Towers-Rowles, music direction by Daniel Koh, and show-stopping choreography by assistant director by Michael Marchak. The action is constant in this non-stop, sung-through musical which centers on Queenie and her menacing lover Burrs who invite friends over for a one debauched night. Lust, jealousy, deception, drugs, sex, and violence all play out against the backdrop of Manhattan during the Roaring Twenties and Prohibition. Costumes designed by Michael Mullen add to the mystic, glamour, and sexiness of those hard-partying times!
Triple-threat performers of note include Deonte Allen as Mr. Black, who is escorted in by the "Life of the Party" Kate (Kaitlin Doughty), but when he takes up with Queenie (Serenity Ariel Robb) to the dismay of her possessive lover Burrs (Hamilton Davis), the party atmosphere takes a very dark turn. These four dynamic entertainers, along with Emilia Sotelo as Madelaine True, dance captain Krystal Combs whose talents are highlighted during "Jackie's Last Dance," Mirai as Mae and Spencer Johnson as Eddie who shine together as "Two of a Kind," Kelsey Weinstein as Nadine, fight captain Eric Eberle as Max, and the entire hard-working ensemble, never leave the stage for a moment during the entire show, lending their atmospheric presence to every scene as background partiers enjoying the evening around the apartment, including on the fire escape out the window, when not performing in a musical number. Please note adult situations and language, for mature audiences only.