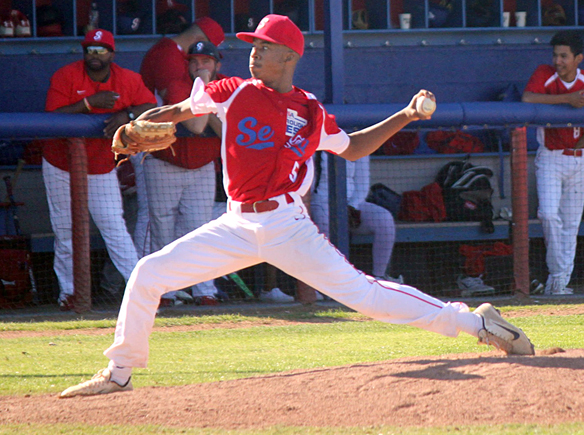 Prior to the start of the season, an experienced Serra High baseball team was seeking a banner year with a Del Rey League title and possibly a CIF-Southern Section Division III championship.
So far, things are not going the Cavaliers' way. A rash of errors are causing Serra to fall to 0-3 in league after home losses to Santa Fe Springs St. Paul and La Puente Bishop Amat last week. On March 26, Serra committed four miscues that resulted into seven unearned runs in a 9-4 loss. A day later, the Cavaliers lost to the Lancers 3-2.
"We're just giving away games," Serra head coach Martel London said. "We've made one to three errors in every game. We're giving away runs."
The game was tied at one until the Lancers, who improved to 3-0 in Del Rey and 7-5-1 overall, scored two runs on a two-run double by Richard Casero for a 3-1 lead in the top of the sixth.
The bottom of the seventh saw hope for Serra (5-6-1 overall) to pick up its first league victory. It started when Juelz Francois and Shane Salzman each singled that was followed by a walk to John Jackson loading the bases. Troy Spencer, however, hit into a double play but Francois managed to score cutting Bishop Amat's lead to 3-2. Jordan Brown followed with a walk but was forced out at second when Bryan Sanders hit into a fielder's choice to shortstop.
The Lancers scored first in the top of the second inning when A.J. Barraza hit a bloop single to scored Richard Castro, who led off the inning with a double off Cavalier junior starting pitcher Kelvin Bender.
In the bottom of the inning, Serra tied the game when Jordan Brown singled scoring Francois.
Against the Swordsmen, Kendall Howard had a strong game going 4-for-4 with two singles, one double, one triple and a run scored.
Blake Archleta was the winning pitcher for Bishop Amat. He gave up two runs on six hits.
The Cavaliers are having their Easter Break but they visit Torrance at Torrance Park's Kendall Field Friday at 3:15 p.m. It will be the second meeting between Serra and the Tartars as the Cavaliers came from behind for a 5-3 win on March 3 at the same spot. Serra resumes league at home against La Salle from Pasadena next Tuesday at the same time. On March 16 at Arcadia Park, the Lancers shut out the Cavaliers 1-0.