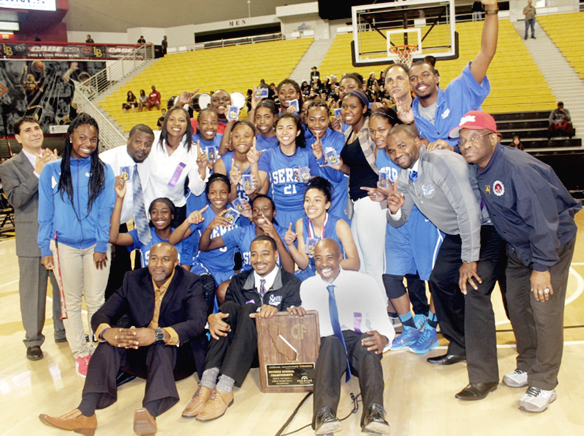 Serra erupts for regional Division I title in OT
By Joe Snyder
Sports Editor
During most of regulation, Serra High's girls' basketball team was not at its best with very cold shooting from the field goal and free throw line in the Southern California Regional Division I championship game last Saturday at the Walter Pyramid on the Long Beach State University campus.
Serra erupts for regional Division I title in OT
By Joe Snyder
Sports Editor
During most of regulation, Serra High's girls' basketball team was not at its best with very cold shooting from the field goal and free throw line in the Southern California Regional Division I championship game last Saturday at the Walter Pyramid on the Long Beach State University campus.
The Lady Cavaliers trailed by six points and were still down 43-42 until Nathanelle Dambo was fouled with three seconds left in regulation. Dambo came off missing six consecutive free throws in the fourth quarter but was finally able to connect on the sixth try sending the game into overtime.
Taking advantage of Ventura's big player, 6-foot-1 Barbara Rangel, fouling out with 50 seconds remaining in regulation, the Cavaliers poured it on the defenseless Cougars 18-2 in the four-minute overtime period for a 61-45 victory and their fifth Southern California Regional championship, their first in Division I after years of being in Division IV.
"We made the plays necessary to extend our game," Serra head coach McKenzie Hadley said. "I couldn't be more proud. We won a tough game."
The Cavaliers started out well with a 10-5 first quarter lead but Ventura, a traditional girls' basketball power since the 1980s, bounced back and held slim two-point leads of 26-24 at halftime and 37-35 after three periods.
The Cougars held a 43-37 lead when Kyleesha Green made two free throws with 4:04 to go in regulation before a free throw from Brijaye Brackett and a three-point basket from Nautica Morrow cut Ventura's lead to 43-41 with 2:55 remaining in regulation.
Morrow made one of two free throws to get Serra within one at 2:05.
Ventura continued fouling and the one against Dambo, who struggled in making just two of eight from the charity line before finally getting it in the hoop on the seventh try of the fourth period.
"She (Dambo) was able to make the play at the right time," Hadley said.
Taking advantage of the Cougars without their big player and another key player, guard Emily Herring, fouling out, Serra overwhelmed Ventura in an unusual overtime blowout.
Junior guard Briana Johnson led the Cavaliers, who improved to 23-10, with a game-high 21 points and four assists. Morrow added 14 points and Dambo, a 6-foot-2 senior center-forward, contributed 12 points and 11 rebounds.
The top seed Cougars were led by Aubrey Knight with 11 points. Ventura failed to get a field goal in the overtime period as Riley Mew scored the Cougars' only two points on a pair of free throws.
In the semifinals on March 17 at Vista Murrieta, the Cavaliers used 31 points from Johnson for a 71-56 win.
Serra dominated Vista, the playoffs' No. 2 seed, most of the game leading by as many as 20 points before coasting to the victory.
Morrow finished with 10 points, six rebounds, four assists and four steals. Brackett had six points and seven rebounds. Brooke Bayman tallied five assists and five steals, although she sat out much of the game in foul trouble.
The Cavaliers will be seeking their second California State championship in three seasons as they face McClatchy from Sacramento for the Division I crown at UC Berkeley Friday at 6 p.m. McClatchy won the Northern California title with a 59-49 win over Oak Ridge last Saturday at the Sleep Train Arena in Sacramento.
_________________
Carson shuts out Gardena in Marine League opener
By Joe Snyder
Sports Editor
Gardena High's baseball team began the Marine League by getting shut out by Carson 6-0 last Monday at Gardena.
The Panthers mustered just three hits from Colt pitcher Jose Quezada, who hurled a complete game shutout. Ralph Garcia collected all of Gardena's three hits in the game. He had a double in the bottom of the first inning.
The Panthers had some chances to score including loading the bases with two out in the bottom of the seventh. After Garcia singled, Avila George and John Campbell walked with two outs. Ricardo Cervantes, however, struck out ending the threat.
For Carson, Jonathan Avila had two hits, including a run-scoring single in the top of the first inning. Adam Rodriguez added an RBI single in the Colts' three-run third.
Junior pitcher Nick Cardona took the loss for Gardena, which fell to 3-2 overall.
The Panthers visit Carson today at 3 p.m. before their two-week spring break.
____________________
Serra enters Del Rey League competition after 2 losses
By Joe Snyder
Sports Editor
Serra High's baseball team began the Del Rey League at St. Paul High in Santa Fe Springs last Tuesday after a pair of non-league losses to host Warren High in Downey and Narbonne last week.
At Warren, the Cavaliers were routed by the Bears 11-1. At Serra Saturday, the Cavaliers lost to Narbonne 4-2.
Against the Gauchos, the game was tied at two until Narbonne scored two runs in the top of the seventh inning before holding Serra (4-3) scoreless in the bottom of the inning.
Sophomore Adrian Morales sparked the Cavaliers by going 2-for-4 with one run batted in. Sophomore Kennedy Guillen went 1-for-3 and drove in a run. Freshman Brian Sanders was 1-for-2 with a triple and one run. Sophomore Cardinal Fernandezees had a double and scored a run. Senior Morgan Lomax had a double.
Warren dominated the Cavaliers with four runs apiece in the bottom of the third and fifth innings and three more in the sixth.
Serra scored its only run in the top of the seventh.
The Cavaliers will host defending CIF-Southern Section Division III champion Bishop Amat from La Puente Friday at 3:15 p.m. Serra hosts Cathedral from Central Los Angeles next Monday and Pasadena La Salle next Wednesday, also in 3:15 p.m. league games.
_______
Mater Dei puts end to Bishop Montgomery boys basketball run
By Joe Snyder
Sports Editor
Riding a 23-game winning streak that included a CIF-Southern Section Open Division crown and being top seed in a prestigious Southern California Regional Open Division, Bishop Montgomery High's boys' basketball team had high hopes of its second consecutive California State championship with this one being in the top division.
Last season, the Knights easily won the state Division IV title with an 85-44 blowout of Hayward Mareau Catholic.
In front of a packed Redondo High gym with approximately 2,500 spectators on March 18, Bishop Montgomery was pitted against powerful Mater Dei that has won 11 California State Championships under head coach Gary McKnight, who already has more than 1,000 coaching wins in his just under 33 seasons (1,024 going into Saturday's California State championship game against Oakland Bishop O' Dowd at UC Berkeley) at the Santa Ana-based school.
The Monarchs, the fourth seed in the playoffs after losing in the Southern Section Open Division semifinals to Etiwanda, read the Knight plays very well, behind 6-foot-10 junior center M.J. Cage. Cage had 17 points, 15 rebounds and eight blocked shots to key Mater Dei to a 65-59 win over Bishop Montgomery. The Monarchs went on to capture their 15th regional championship with a 51-40 win over CIF-Los Angeles City Section Open Division champion and second seed Fairfax Saturday at the Long Beach State Walter Pyramid.
Mater Dei led just about all of the game exception when the Knights held a 12-10 advantage late in the first quarter.
The game was close most of the way but the Monarchs led by as many as 12 points at 54-42 when their leading scorer La'Vette Parker (21 points) hit a three-point basket midway in the fourth quarter.
Bishop Montgomery, which ended its season at 31-2, would get no closer than within five points.
Mater Dei especially did well on senior Oregon State bound all-American Stephen Thompson, Jr., holding him to just two first half points. Thompson, a Gardena resident and son of former Crenshaw High, Syracuse University and National Basketball Association standout Stephen Thompson, Sr. (now an assistant at Oregon State), finished the game with 15 points. Leading the Knights was Christian Oshita with 17 points. Stephen Jr.'s sophomore brother, Ethan, added 10 points.
"He (Thompson) makes big plays," Bishop Montgomery head coach Doug Mitchell said. "He was missing shots he usually knocks down."
Mater Dei also had 14 points from K.J. Smith.
The Monarchs will take on Bishop O' Dowd, the top ranked team in California and rated as high as No. 3 in the United States by some publications and websites, at UC Berkeley for their 12th state crown Saturday at 8 p.m.