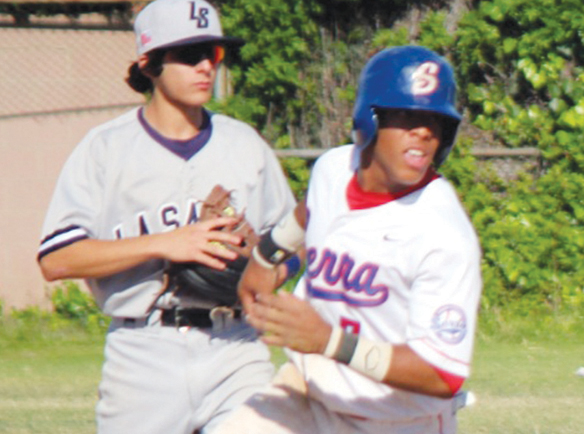 Entering last week, Serra High's baseball team was sitting one-game behind a La Salle High squad from Pasadena in Del Rey League action.
The young Cavaliers were able to pull out into first place in the standings by sweeping the Lancers last week. At Serra on April 29, the Cavaliers shut out La Salle, 2-0. At La Salle last Thursday, the Cavaliers outlasted the Lancers, 12-11.
Entering last week, Serra High's baseball team was sitting one-game behind a La Salle High squad from Pasadena in Del Rey League action.
The young Cavaliers were able to pull out into first place in the standings by sweeping the Lancers last week. At Serra on April 29, the Cavaliers shut out La Salle, 2-0. At La Salle last Thursday, the Cavaliers outlasted the Lancers, 12-11.
In Thursday's offensive fest, it was junior Morgan Lomax that led Serra, which is 10-10 overall and 5-1 in league, by going 4-for-5 with two runs batted in, two runs scored and two stolen bases. Marcus Wilson was 3-for-4 with a home run and two RBI's. Denz'l Chapman went 3-for-5 with two runs and two stolen bases, and Mateo Brambila had two hits and drove in two runs.
The key inning for the Cavaliers was the top of the second inning when they let loose for eight runs.
Two days earlier, the game was more of a pitching duel. Cavalier freshman starter Cardinal Fernandezees hurled six innings, allowing just three hits, striking out two and walking three.
La Salle starter Jordan Rodgers proved just as tough. Through five scoreless innings, he limited the Cavaliers to three hits, struck out nine and walked one.
In the bottom of the sixth inning off Rodgers, Mateo Brambila began with a base hit that was followed by a walk to another frosh, Adrian Morales. Both advanced a base on a sacrifice bunt by Hector Ramos, then they scored on a base hit from Fernandezees.
Morgan Lomax came in the seventh. He got Brett Harper to ground out to first base, but walked the next two batters. Marcus Wilson came in from center field to finish the game. He allowed one walk but got Chris Rabine to strike out and Rodgers to fly out to right ending the game.
In a Redondo Tournament consolation game last Saturday at Loyola High in Los Angeles, Serra was edged by the Cubs, who are currently ranked No. 2 in the CIF-Southern Section Division I, 4-3.
The Cavaliers took a 3-1 lead into the bottom of the sixth inning before Loyola rallied for three runs in the bottom of the inning.
Lomax, Ramos and Morales all went 1-for-3 with a run scored. Lomax also drove in a run.
Brambila went six innings, allowing four runs (three earned) on six hits. He struck out two batters and walked one.
Reliever Quinn Brodey was the winning pitcher in relief of starter Jack Poulsen for the Cubs.
_________
Gardena advances to boys tennis semifinals
By Joe Snyder
GVN Correspondennt
Gardena High's boys' tennis team advanced to the CIF-Los Angeles City Section Invitational semifinals after winning the first two rounds at home against Van Nuys Grant and Sherman Oaks Center of Enriched Studies last week.
On April 30, the Panthers rolled over Grant, 28-1.5. Last Friday, Gardena outlasted SOCES, 16.5-13.
Those wins put the No. 3 seed Panthers into the semifinals at Gardena against Marine League rival Narbonne last Tuesday. The Gauchos, who entered the playoffs as the seventh seed, rolled over Downtown L.A. Magnet, 23.5-6, on April 30 at Narbonne, then stunned No. 2 seed and host Lake Balboa Birmingham, 15.5-14.
The winner of last Tuesday's semifinal moves on to the final against either top seed Woodland Hills Taft or No. 4 seed Venice at the Balboa Tennis Center in Encino Friday at noon.
Serra softballers fall to Mary Star: Serra High's softball team fell to 0-6 in the Camino Real League and 5-14 overall after a 2-0 loss to host Mary Star of the Sea High on April 29 at the San Pedro Softball Complex.
The Stars are currently ranked sixth in the CIF-Southern Section Division VI.
In a non-league game on April 28 at Serra, the Lady Cavaliers defeated Southlands Christians High from Walnut, 11-6.
Serra visits St. Monica at Santa Monica Memorial Park next Monday at 6 p.m., then close out league at home against Mary Star next Wednesday at 3:15 p.m.
Gardena is still winless in Marine: Gardena High's baseball team suffered a pair of lopsided losses to Narbonne last week.
On April 29 at Gardena, the Panthers were shut out by the Gauchos, 7-0. Last Thursday, host Narbonne took just five innings to finish off Gardena, 13-1.
The Gauchos are top contenders for, not only the Marine League, but overall CIF-Los Angeles City Division I crown after, earlier, topping power El Camino Real from Woodland Hills.
Gardena has a shot at picking up to a pair of league victories, playing lowly Washington this week. The Panthers hosted the Generals last Tuesday and visit Washington on Wednesday in 3 p.m. league games.
Washington, like Gardena, is 0-6 in Marine action after being humiliated by San Pedro by 42-1 and 12-0 scores last week.
The Panthers visit the Pirates next Monday at 3 p.m.
___________
NBA bans Sterling for life; D'Antoni abruptly quits as Lakers' coach
By Joe Snyder
GVN Correspondent
On April 28, National Basketball Association Commissioner Adam Silver banned Los Angeles Clipper owner Donald Sterling for life from the organization for the racial remark on a tape.
This means that he will not be able to attend any NBA games nor go to any other NBA events.
Silver and the rest of the commission are also seeking to force Sterling to sell the Clippers.
The action put relief on the team and its fans, as well as the rest of the NBA and the overall sports world. It is a very deserving action. Some even feel that Sterling should even receive criminal charges for his so-called bigotry remarks.
Just days after the announcement was made, though, head L.A. Lakers coach Michael D'Antoni decided to step down as head coach after rejecting offers given by owners Jim and Jeanie Buss.
Most of the team and its fans also feel that is a big relief due to feelings of his ineffective job at their worst season in L.A. and second worst in overall franchise history. This past season's 27-55 mark for a .329 won-loss record was only ahead of the 1957-58 Minneapolis Lakers who were 19-53 for a .264 won-loss percentage. Their record is the sixth worst overall, ahead of No. 1 Milwaukee Bucks, No. 2 Philadelphia 76ers, No. 3 Orlando Magic and co-No. 4 Boston Celtics and Utah Jazz. It was the second worst, only to the Jazz, in the Western Conference. The chances of the Lakers getting a top pick are 6.3 percent.
Trying to use the fast pace offense to a squad consisting of older veterans who are not as quick was definitely a poor idea. It is an era of hard working defenses. The Lakers were worst in the NBA in most points given up. In fact, about a month ago, they scored a season high 130 points, only to fall at home to the Houston Rockets, 145-130.
It was four times that the Lakers allowed over 140 points and several others in the 130's. Of course, many of their scores are more that of the NBA all-star games, including the West topping the East, 163-155, in February. A lot of those high scoring contests are more like the 1970's and 1980's when offense was more the thing.
The Lakers are in definite need of a coach who needs to look at all of the players and see what is best for them. The new coach needs to instruct defense, but also offense, as well.
The Lakers front office will take their time with some considerations including long time NBA head mentor George Karl, Jeff Van Gundy, ex-Lakers and Clippers coach Mike Dunleavy, former Lakers guard Byron Scott (a former Inglewood Morningside High player who was also head coach for the New Jersey (now Brooklyn) Nets, Cleveland Cavaliers and New Orleans Hornets (now Pelicans) and Ettore Messina (former consultant to ex-Lakers head coach Michael Brown, who now heads the Cleveland Cavaliers). Messina was a successful head coach to some teams in Europe.
There is also ex-Laker Derek Fisher, who is still playing for the Oklahoma Thunder, along with successful college coaches John Calipari of Kentucky and this year's NCAA Division I champion University of Connecticut head mentor Kevin Ollie. Sources are, though, that Ollie is continuing to talk to U Conn and it appears he may want to stay there. Ollie grew up in L.A. where he played at Crenshaw High in the early 1990's.
They could get back now New York Knicks President Phil Jackson, although very doubtful.
As of now, my suggestion appears to be Karl or Scott.
Clippers win convincingly: The Los Angeles Clippers won the first round of the National Basketball Association playoffs in seven games over the Golden State Warriors after hanging on for a 126-121 win on Saturday at the Staples Center.
That certainly brought their momentum into the Western Conference semifinals after taking away home court advantage to the Oklahoma City Thunder in a 122-105 rout on Monday.
The Clippers were led by Chris Paul with a game-high 32 points. Blake Griffin added 23 points and Jamal Crawford chipped in 17.
Former Lawndale Leuzinger High and UCLA standout Russell Westbrook led the Thunder with 29 points followed by Kevin Durant with 25.
So far, they are a good replacement to the Lakers who had their most down season in 56 years.
Game 2 was on Wednesday in Oklahoma City and they host the Thunder Friday at the Staples Center.
Kings grab 2-0 lead: Being the third seed behind No. 1 Anaheim Ducks and No. 2 San Jose Sharks, who the L.A. Kings stunned in seven games after being down 3-0, are already up 2-0 on their L.A. area rivals Ducks after a 3-1 victory last Monday in Anaheim in the National Hockey League Western Conference semifinals.
The Kings won the first game over the Ducks, 3-2 in overtime, after tying the match with just seven seconds remaining in regulation.
They are hoping for magic after winning the Stanley Cup after being seed last in the West two years ago.