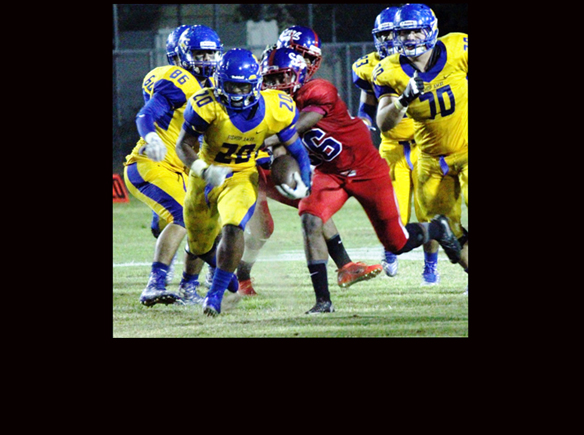 Last Friday's Mission League football showdown between two of the top teams in Southern California that were loaded with Major Division I college prospects definitely had the atmosphere of a college football game.
Last Friday's Mission League football showdown between two of the top teams in Southern California that were loaded with Major Division I college prospects definitely had the atmosphere of a college football game.
In the end, it was University of Arizona commit quarterback Khalil Tate that climaxed the scoring with the winning 50-yard run that highlighted the Cavaliers to a thrilling 41-38 victory over the Lancers in Serra's first game on their home stadium. Prior to last week, the Cavaliers' had to play their only other home game on Sept. 11 against Carson at Long Beach City College's Veterans Stadium due to rebuilding of its bleachers. The project is still not done but the bleachers leading to the press box, the main thing the school and the football team wanted done, were completed and temporary bleachers to accommodate more fans were put in on the south side of the field.
Serra led throughout the contest until Bishop Amat (5-2 overall and 2-1 in league) took its only lead at 38-34 on a 2-yard touchdown run by running back Torreahno Sweet with 4:01 left in the game.
The Lancers, who were looking for their second straight win over the Cavaliers (Bishop Amat topped Serra 14-7 last season at Bishop Amat in La Puente.), but had to learn about the squad who already has one of the most dominating all-around players in California and even the United States. Tate broke tackles and was in the clear for the winning touchdown with 2:09 remaining.
Tate showed his outstanding performance with 401 total yards and five touchdowns. He rushed for 201 yards and three TD's and passed for 200 yards and two scores.
"I grinded it out and we got the W," Tate said. "I knew I had to score."
The passing combination of Tate and wide receiver Brandon Burton got things started for the Cavaliers, who improved to 6-1 overall and 3-0 in Mission play. They started Serra's scoring when they connected from 39 yards out and took a 21-10 second quarter lead on a 50-yarder. Job McGinty scored Serra's other first half touchdown on a 53-yard run. He carried the ball nine times for 90 yards.
"We played well early," Serra head coach Scott Altenberg said. "We were worn down but our defensive line fought hard. We're a good team. We made the plays tonight."
The Cavaliers had a difficult time holding down Sweet, who, behind his good size offensive line, rushed for 170 yards and three TD's on 39 carries. His second score cut Serra's lead to 34-31 with 10:35 to go on a 3-yard run.
Serra will have its homecoming game against Crespi High from Encino Friday at 7 p.m. The Celtics are 0-3 in league and 2-5 overall after falling to Loyola last Friday.
_________________________
Gardena Football
Suddenly hot Carson rolls over Gardena
By Joe Snyder
Sports Editor
Gardena High's football team began with promise after winning its first three games but the Panthers fell into stronger opponents and lost their third consecutive game at Carson 51-13 in their Marine League opener last Friday.
The Colts, who are faced with a rebuilding year but also had some key players out, started out 0-4 but won their last two games that included a 34-27 victory at West Torrance on Oct. 9 and an easy victory over Gardena, which continues to have problems in the rigorous Marine that is led by CIF-Los Angeles City Section power Narbonne, Carson, Banning and San Pedro.
Carson struggled the first few minutes of the contest but suddenly got things going fast from there. The Colts (2-4 overall and 1-0) began the scoring on a 2-yard run by Ari Harris.
Early in the second period, the Colts grabbed a 13-0 lead on a 6-yard touchdown run from Kyron Cannon.
Gardena, which fell to 3-3 overall and 0-1 in league, had Jamar McDaniel took the ensuing kickoff following Carson's second TD and ran it 86 yards for its first score cutting Carson's lead to 13-7.
The Colts came back with two more touchdowns on a 5-yard run by Willis and a 27-yard pass from quarterback Jaja Bellenger to wide receiver Noah Jackson.
In the closing seconds of the first half, the Panthers came through with a 43-yard pass from quarterback Jonathan Mudd to wide receiver J'Sean Kadourah that was followed by a 6-yard scoring pass from Mudd to Jaylen Maddon.
That was all Gardena could get as Carson turned the game into a rout with 24 unanswered points, behind Dayshawn Littleton. He had TD's on a 32-yard punt return and a 43-yard run. He added a 55-yard interception return that set up Harris's 7-yard touchdown run. Littleton also had two two-point conversions.
The Panthers won't have it any easier in their homecoming game against powerful Narbonne Friday at 7 p.m. The defending L.A. City Division I champion Gauchos, favored to win it again this season, moved to 4-2 overall and 1-0 in league after crushing Washington 73-6 last Friday at Narbonne. Narbonne's only losses were by close scores to Southern Section PAC Five powers Long Beach Poly and Serra.
______________________________________
Football Roundup
El Camino can't hold lead in losing to Cerritos
By Joe Snyder
Sports Editor
El Camino College's football team appeared to be headed for an upset win over host Cerritos but could not hold on to a 17-point lead in a 40-38 loss to the Falcons last Saturday.
Playing without starting quarterback Jorge Hernandez, who was injured against Riverside, the Warriors went to Brent Boehm, who completed 31 of 45 passes for 328 yards and three touchdowns. Two of those went to wide receiver Justice Anyanwu, the later giving ECC a 38-21 third quarter lead.
Cerritos (5-1) went on to score 19 unanswered points and scored its eventual winning TD on a 17-yard pass from quarterback Jimmy Walker to De'Jai Whitaker midway in the fourth quarter.
After blocking a point after touchdown, the Warriors had a shot at tying the game when the blocked PAT was recovered by De'Juan Tyson who nearly scored the two-pointer before being tackled from behind by Falcon kicker Adrian Saldana at the Cerritos 8-yard line.
ECC, then, drove to the Falcon 28-yard line but three straight quarterback sacks ended the threat.
The Warriors have a bye week before visiting rival Los Angeles Harbor College on Oct. 24 at 6 p.m. The Seahawks are 2-4 overall after a 61-36 home loss to Santa Monica City College on Saturday.
Juarez continues to lead North: Mique Juarez accounted for all seven of NorthTorrance High's seven touchdowns in a 49-0 home win over Centennial High from Compton last Friday.
He began the Saxons' scoring with a 90-yard kickoff return.
Juarez scored two touchdowns and passed for four more, two to Jason Colclasure.
It was North's fifth straight win since its season opening 26-21 loss to host Redondo on Aug. 28. It was also the Saxons' fourth consecutive shutout.
North, which improved to 5-1 overall after winning its Pioneer League opener over the Apaches (0-6) will show down at West Torrance, which won its league opener at home against Leuzinger 41-20 on Friday, this Friday at 7 p.m.
Baucham keys West: Brylen Baucham, playing his second game after transferring there, rushed for 135 yards and three touchdowns on 15 carries to key the Warriors to a 41-20 victory over Leuzinger in their Pioneer League opener last Friday at West.
Baucham had TD runs of 53, five and 28 yards.
Junior quarterback Drake Peabody rushed for 84 yards on 12 carries and completed 10 of 23 passes for 125 yards and one touchdown, that a 68-yarder to Kris Loften.
Denver Silverlake connected on two field goals and had one interception.
For Leuzinger, Malik Jackson completed 17 of 28 passes for 340 yards and two touchdowns. Adrian Gallera rushed for 100 yards and one TD on 14 carries.
South rallies past Torrance:In the Pioneer League's first game between two Torrance schools, South Torrance High overcame a 14-0 deficit with 21 unanswered points to pull off a 21-14 win over Torrance last Friday at South.
Quarterback Gabe Zuniga proved dominant by scoring the Spartans' all three touchdowns. He ran for 79 yards.
South improved to 5-1 overall and 1-0 in league.
The Tartars, who are 0-6 overall and 0-1 in Pioneer action, was led by wide receiver Eric Suarez who had 102 yards and one TD in receptions. Quarterback Ryan Carroll completed six of 23 passes for 137 yards.
The Spartans visit Centennial in Compton, while Torrance is at Leuzinger in 7 p.m. league games on Friday.