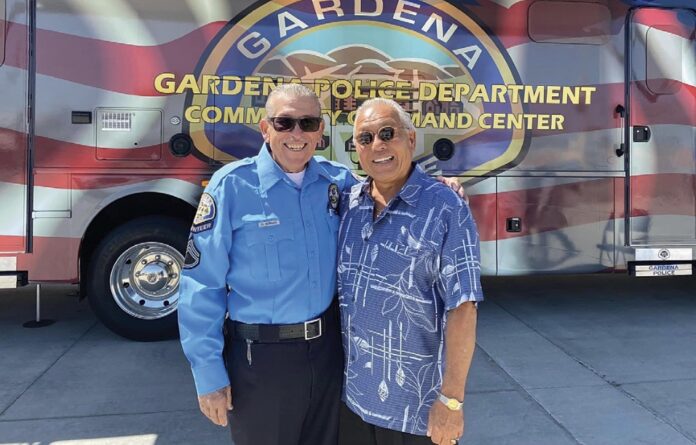 By Gary Luster
One of the best things anyone can do is volunteer their time to a worthy cause. It provides the opportunity to do something worthwhile with our free time by helping those who are less fortunate.
According to Indeed.com, vol- unteering can provide a healthy boost to a person's self-confidence, self-esteem, and life satisfaction. Self-confidence, self-esteem, and life satisfaction are huge benefits of volunteering which is why for those us in our golden years, volunteering can be especially significant.
Hector Burgos began volunteering with the Gardena Police Department in November 1997 and said it was one of the best decisions he has ever made.
"I always had expectations of becoming a police officer but fate took me into a different career path so when I saw a newspaper article in the Gardena Valley News that they were recruiting for police volunteers, I signed up and went through civilian police academy classes."
Burgos, 72, said the classes involved 30-40 hours of class time that taught ethics and professionalism and how to be a good witness, as well as how to develop working relations with the police department itself and with the city.
As a volunteer, Burgos per- forms street closures for public events or emergency situations. He and his fellow volunteers who currently number around 14, also provide additional manpower for such events as local parades and the annual National Night Out.
They assist with the annual Gardena police canine pancake breakfast and also help with various scholarship award luncheons and dinners. They also assist with the annual GPD golf tournament.
"We supplement the manpower and we are saving the city money because when we are out there we are volunteering to do a duty that would otherwise go to a police officer," Burgos said.
In addition, volunteers help the Gardena police with DUI checkpoints by compiling stats and making sure all the vehicles go through the checkpoint. Gardena police partners with the California Highway Patrol as part of a multi-agency task force.
Burgos said that one of the most important tasks that he performs as a volunteer is child care. As per police protocol, when a suspect is arrested and they have children with them, the child is brought into the police station and volunteers like Burgos are called in to sit with them until the department of child services comes or until the child is released into the custody of a relative. According to Burgos, this is the only on-call duty they have as a police volunteer.
"We'll get a call in the middle of the night to go into the station to sit with infants up to pre-teens," Burgos said.
Since the conception of the program in 1996, there have been a total of 154 volunteers with the average age of the volunteers being between 75 and 80 years of age. Burgos said the fact that all of the volunteers are senior citizens is not an accident.
"At first we focused on recruiting young volunteers but soon discovered that they all had aspirations of becoming actual police officers and saw the volunteer program as their foot in the door," Burgos said. "So then we changed things up and started recruiting seniors that want to do something with their time that is rewarding and gives back to the city."
During the course of a typical shift, police volunteers get to know the officers on duty by having coffee with them. Often during these quieter times citizens will approach them and express an interest in volunteering.
However, for those thinking that they can just sign up to be a police volunteer will be in for a wakeup call.
Volunteers go through a background check that is almost as intense as the ones that sworn police officers experience. Burgos said that you basically have to be squeaky clean with no criminal record and added that those interested in becoming volunteers must have realistic expectations about the opportunity.
"We're not law enforcement officers," Burgos said. "We're in no position to enforce the law. We're just there to provide support," Burgos said. "We're an extra pair of eyes to ensure the safety of Gardena and the officers who are out there."
For Burgos, who has served under six Gardena police chiefs (Richard Propster, Mike Skogh, Rodney Lyons, Ed Medrano, Tom Kang and current chief, Mike Saffell), the Gardena Police Volunteer Program has been more than just something to do with his free time, it has become a family affair.
In 1998, one year after Burgos joined the program, his wife Virginia became a police volunteer who served for five years before being offered a paid position with the GPD as a police assistant, a job she held for 15 years before retiring in 2018. Burgos' son Eric and daughter Kelly were also, at one time, Gardena police volunteers.
During his 25 years of service as a police volunteer, Burgos helped write the procedures manual that all volunteers use which includes information on general observation techniques, how to be a good witness, radio procedures, familiarization of the city, and interfacing with the citizens of Gardena.
During this time Burgos also developed solid relationships with the good people who have served and continue to serve alongside him.
"I've met a great group of peo- ple over the years and if it wasn't for my involvement with the Gardena police department I would have never met these outstanding individuals," he said. "Some of the volunteers have become my closest personal friends. We go out to dinners, and swap meets and car shows."
But Burgos not only honors and enjoys the friendships he has developed over the years, he also knows how important it is to honor those who are no longer with us. As a result, he set up in remembrance of those volunteers who are no longer with us, inside of the office of the police volunteer program within the GPD, a memorial board with the photos and date of death of all of the volunteers who have passed on, some of whom were the parents of current Gardena police officers.
The Gardena Police Department Volunteer Program began in 1991, when three senior citizens asked if there was anything they could do to help. Organized classes began in 1997 and have continued each year. The volunteers are asked to work 16 hours a month with many doing more than required.
The Gardena Police Department is actively recruiting volunteers for their next class and will post information on their Facebook page shortly in regard to this. To apply for the volunteer program, please visit: https://www.cityofgardena.org/volunteer-application/ .
For questions and/or concerns please contact Community Affairs Coordinator Erika McLeod at (310) 217-9689.