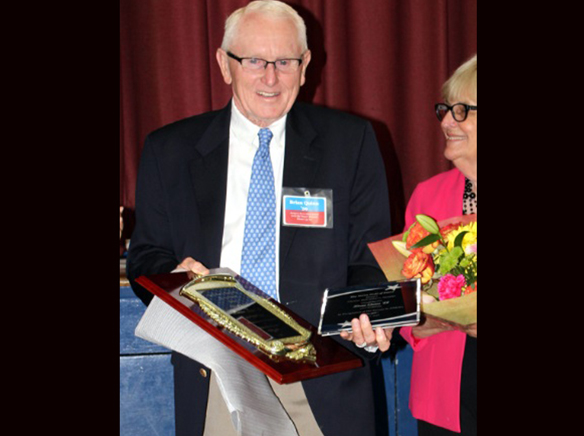 Former Serra High standout athlete Brian Quinn was one of most successful college athletic directors in Southern California.
Spending 28 years as A.D. and having numerous successful athletic programs behind him earned his election into the National Association of Collegiate Directors Hall of Fame. He will be inducted on Saturday in Washington, D.C.
"This is huge," Quinn said. "It's an ultimate honor."
Quinn, who graduated from Serra in 1959, was already inducted into the West Coast Conference Hall of Honor Class as a baseball and basketball player and as Athletic Director at Loyola-Marymount in March in Las Vegas.
Quinn stood out in both sports with the Cavaliers, keying them into the CIF-Southern Section playoffs. In baseball, he led Serra to the Catholic League championship, the Cavaliers' first league crown for any sport, in the 1959 season.
Quinn also sparked Loyola College, now Loyola-Marymount University, to successful records in basketball and baseball. As a sophomore in the 1960-61 season, he keyed the Lions to the WCC title and into the NCAA Division I playoffs where they took third in the Western Regionals.
After graduating from Loyola in 1963, Quinn had a brief career in business but did enter graduate school. After his Masters Degree, Quinn began teaching and coaching basketball at St. Anthony High in Long Beach, then spent the next season at St. Bernard High in Playa del Rey. After that, Quinn coached baseball, basketball and cross country coach at Irvine High. He became athletic director at Irvine High from 1975-80, before moving to the same position at Woodbridge High, also in Irvine. Woodbridge had just opened when he arrived there.
In 1985, Quinn returned to LMU as Athletic Director. He held the position until being promoted to Executive Director of Athletic Development in 1998.
Four years later, he moved on to take on as athletic director at Cal State Fullerton, a position he held until retirement from the position in 2012. He was a part time professor in Principles of Sports and Fitness Management for one year before going into full retirement. Quinn, however, is still site manager for NCAA baseball.
Quinn had good success with LMU and Cal State Fullerton. In 1986, the Lions advanced to the College World Series. In 1990, LMU made the NCAA Division I final four in men's basketball before falling in the semifinals to eventual champion University of Nevada-Las Vegas. In that year, LMU's program was stunned by the sudden death of Hank Gathers in a NCAA tournament win. The Lions were head coached by Paul Westphal, who inaugurated their fast break offense that produced very high scoring games. At Cal State Fullerton, the Titans, under the late legendary head coach Augie Gurrido, won the NCAA baseball crown in 2004. Cal State Fullerton's men's basketball team produced several 20-plus-win seasons and a few NCAA playoff appearances. The Titans had a third round appearance in the National Invitational Associations in 2005.
Gurrido died about three months ago after several NCAA crowns. He also coached baseball at University of Texas.
Quinn is also a member of the LMU Athletic Hall of Fame. In his retirement, he put together a foursome that won Serra's first Annual Golf Tournament and followed up with two top three finishes. He is also the head coach of his granddaughter's fifth grade basketball team. He was inducted into the Serra High Athletic Hall of Fame in 1985.
Quinn had been married to Collette for 55 years. They have four children and 23 grandchildren.