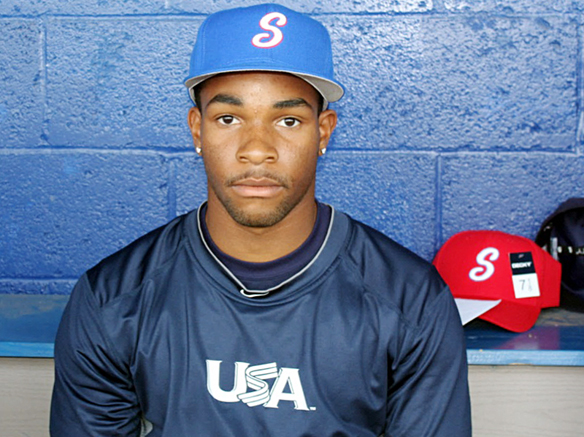 Last season, Serra High's baseball team, under head coach Wilmer Aaron, won its first CIF-Southern Section Division III crown by rolling over Manhattan Beach Mira Costa, 8-1, on May 31 at Dodger Stadium.
The Cavaliers lost several key players to graduation, including Dominic Smith, who is now with the New York Mets organization after being picked in the first round on June 11.
Last season, Serra High's baseball team, under head coach Wilmer Aaron, won its first CIF-Southern Section Division III crown by rolling over Manhattan Beach Mira Costa, 8-1, on May 31 at Dodger Stadium.
The Cavaliers lost several key players to graduation, including Dominic Smith, who is now with the New York Mets organization after being picked in the first round on June 11.
Also lost are the Bate brothers, including standout Solomon, who moved back to Victor Valley and are attending Victor Valley High, and promising junior Duncan McKinnon and sophomore Isaiah Flowers, who both transferred to Redondo High.
Serra, though, returns two all-American candidate players in outfielders Denz'l Chapman and Marcus Wilson. As a sophomore two years ago, Chapman stole 60 bases. He's a good all-around offensive and defensive player. He played for Team USA during last summer.
Over last summer, Marcus Wilson played in the Under Armour All-Star Baseball Classic in San Diego. Both were also all-CIF last year and played in the Area Code All-Star Classic at Long Beach Blair Field during the summer.
The rest of the team, however, is mostly young with little experience but have some talent.
"We lack experience but we'll be all right," Aaron said. "We will throw speed to a lot of the clubs. We'll be expected to run and bunt a lot.
One key returning part-time starter for the Cavaliers is junior Morgan Lomax, who started in the championship at Dodger Stadium.
Serra will be mostly young but Aaron believes that 6-foot-3 freshman C.J. Fernandez is highly touted for his class.
Junior first baseman Mateo Bramblia is a returning player.
"Those guys can run," Aaron said.
Some other key players for Serra include freshman third baseman Adrian Morales, sophomore Tommy Bothwell (very good switch hitter) and catcher Kennedy Guillen.
"We just got to get them to believe that they can win," Aaron said.
Last Saturday, Serra began the 2014 season at the Urban Youth Baseball Academy in Compton against Warren High of Downey, but lost, 6-1.
Bramblia drove in the Cavaliers' only run with a base hit.
Serra had only two hits in the game and its defense committed five errors that led to five unearned runs by Warren.
The Cavaliers had a home game against Dorsey last Tuesday and will host Crenshaw Friday at 3:15 p.m.
Serra's first Del Rey League game is at home against Cathedral on April 8.
__________
Bishop Montgomery, West capture Southern Section crowns; begin state playoffs
By Joe Snyder
GVN Correspondent
The CIF-Southern Regional girls' basketball championships, which are loaded with South Bay teams, proved to be a success for Bishop Montgomery and West Torrance, last Saturday at Azusa-Pacific University.
West had its first ever Southern Section title in winning Division IIA with a 62-52 victory over Placentia El Dorado.
The Lady Warriors were led by Kylie Fujioka with 19 points and six rebounds. Fujioka scored 13 of those points in the first half.
West set the tone for the game by surging out to an 18-10 first quarter lead. El Dorado made a few threats but the Warriors kept ahead.
The Lady Knights captured the Division IVAA crown by coming from behind to beat San Juan Capistrano Junipero Serra, 46-43.
It was Bishop Montgomery's first CIF championship since 2003. That squad was led by now Women's National Basketball Association star Noell Quinn, whose niece, Tyler, is on the Knights' current team.
Serra led most of the game, including 42-38 with 4:12 left before Bishop Montgomery closed it out with an 8-1 run.
The Knights' standout was guard Christine Delapina who scored six of their final eight points, including making both free throws with 3.4 seconds remaining. She also had a layup that tied the game at 42 and another basket that gave Bishop Montgomery a 44-43 lead. Delapina finished with 12 points, five rebounds, three assists and two steals.
Janelle Odiona led the Knights with 13 points, five rebounds and six blocked shots. Courtney Kentoc added six points and eight rebounds.
Things weren't as successful with Narbonne High's girls' basketball team, which failed its CIF-Los Angeles City Section three-peat come to an end with a 47-37 loss to Fairfax last Saturday at L.A. Southwest College.
The Lady Gauchos had trouble with premiere junior forward Marguerite Effa, who had 23 points and nine rebounds. Effa had 19 of her points in the second half.
In the Southern California Regionals, Gardena Serra, which lost in the Southern Section Open Division quarterfinals to Etiwanda, is still the top seed in Division IV and had a first round bye. The Lady Cavaliers begin the playoffs on Saturday at home against either No. 8 seed Lindsay from the Central Section Division IV or Fairmont Prep of Anaheim.
Bishop Montgomery is seeded third and began at home last night against Exeter, also from the Central Section.
West Torrance is No. 2 seed, behind Southern Section Open Division semifinalist West Hills Chaminade, in the regional Division II as it began against CIF-L.A. City Section Division II runner-up Bell last night at home. If the Warriors prevail, they will face either Bay League foe Redondo (Southern Section Division IIAA semifinalist which lost to rival Mira Costa 40-33 on March 5 at Mira Costa and No. 10 seed) or seventh seed Carlsbad La Costa Canyon (San Diego Section Division II champion) at home on Saturday at 7 p.m.
L.A. City Section Division I runner-up Narbonne began last night at Long Beach Milli
_____________
Knights make state regionals despite open consolation loss
By Joe Snyder
GVN Correspondent
Bishop Montgomery High's boys' basketball team was able to win two of its four CIF-Southern Section Open Division games but fell on the short end of a 66-62 score to host Sierra Canyon in the consolation final on March 4 in Chatsworth.
The Knights led by as many as 11 points in after a 10-0 third quarter run, but the Trailblazers came back to outscore Bishop Montgomery, 25-11, in the fourth quarter that included a 21-6 run. Bishop Montgomery was still ahead by 10 (51-41) after three periods.
Justin Bibbins, who had a good week, led Bishop Montgomery with 27 points, followed closely by Stephen Thompson, Jr. with 26, but the two combined for just nine points in the fourth quarter.
Premiere sophomore Devearl Ramsey led Sierra Canyon with 24 points, including 17 in the second half and 12 in the final period. He had a game-tying three-point basket that knotted the contest at 57.
That contest was a match-up between what are the top two seeds in the Southern California Regional Division IV playoffs. The Trailblazers are top seed and the Knights are No. 2. Bishop Montgomery began the playoffs last night at home against No. 15 Fresno from the Central Section Division IV.
On March 4 at Bishop Montgomery, the Knights slipped past St. John Bosco of Bellflower, 64-63, behind another fine performance from the Long Beach State University-bound Bibbins who had 18 points.
Serra High, which lost both games to Corona Centennial and Sierra Canyon in the CIF-Southern Section Open Division playoffs, is seeded No. 3 in the regional Division IV and opened at home against Central Section Division IV runner-up Granite Hills from Porterville last night.
The regional quarterfinals are Friday at 7 p.m.
Interestingly, if both the Cavaliers and Knights win their first two games, they will square off in the semifinals next Tuesday at 7 p.m. at Bishop Montgomery.