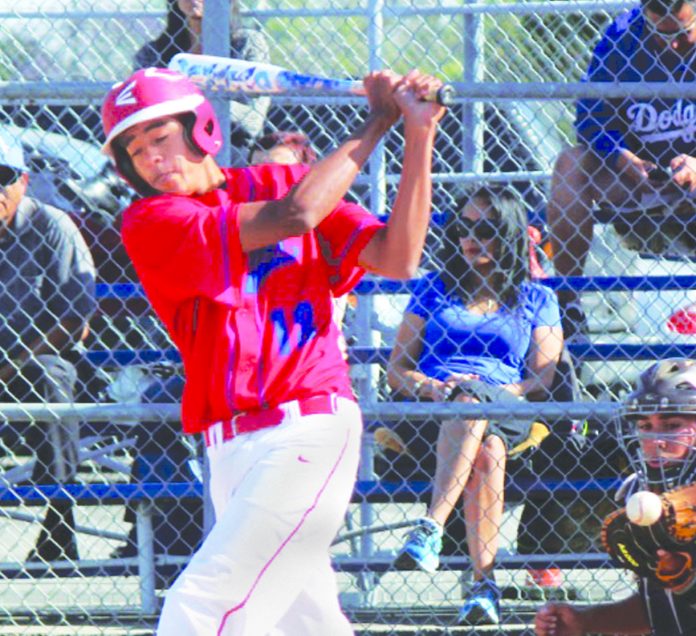 After losing its first Del Rey League game to Bishop Amat, 4-1, on April 15, Serra High's baseball team rebounded to top the host Lancers, 6-5, in their second contest of the two-game series a day later in La Puente.
After losing its first Del Rey League game to Bishop Amat, 4-1, on April 15, Serra High's baseball team rebounded to top the host Lancers, 6-5, in their second contest of the two-game series a day later in La Puente.
The Cavaliers had good clutch performance by returning all-American Marcus Wilson. With the bat, Wilson went 2-for-3 with two runs batted in. Wilson was also relief pitcher in the bottom of the seventh inning after Bishop Amat loaded the bases with no outs. With Serra ahead, 6-4, Wilson came in relief of Denz'l Chapman, who had earlier relieved starter Tommy Bothwell. He proceeded to strike out Michael Palos, then got Sergio Robles to hit a sacrifice to left that drove in a run, cutting Serra's lead to one run.
Wilson, then, got Bryan Mendez to hit into a force play ending the threat.
With the win, Serra increased to 3-1 in league and is tied with the Lancers for second place. Leading the league is La Salle High from Pasadena, which the Cavaliers play at home next Tuesday at 3:15 p.m.
Also aiding the Cavaliers' offense were Chapman with three hits and Adrian Morales with two hits and two RBI's. Morales' run-scoring hits came each in the top of the fifth and sixth.
A day earlier and with several Major League Baseball and Division I college scouts present, Serra ran into a highly regarded senior pitcher in Alex Garcia. The Cavaliers struggled against Garcia's mixture of effective pitches as they mustered on four hits.
One of those hits was a triple by Chapman in the bottom of the sixth. Chapman later scored when Mateo Brambila hit into a fielder's choice.
"We ran into one of the best pitchers I've seen in awhile," Serra head coach Wilmer Aaron said. "I don't see many teams that can beat him. I give a lot of credit to Amat. They have a good approach to hitting."
Scott Hurst had three hits and drove in a run for the Lancers but Aaron felt that the Cavaliers had a few costly errors that saw two of Bishop Amat's four runs being unearned.
In a non-league game last Saturday at North Torrance High, Serra had three home runs in its 15-8 victory over the Saxons.
Hitting the homers for the Cavaliers (7-8 overall) included Laurington Williams, Wilson and Chapman. Brambila was 3-for-4 with two doubles and five RBIs.
___________
Cavaliers have a few strong spots at Mt. SAC; locals shine in S. Bay Meet
By Joe Snyder
GVN Correspondent
Serra High's track and field team did not have many of its top athletes, including standout long jumper Adoree Jackson, but had a few strong performances in last Friday and Saturday's Mt. San Antonio College Relays in Walnut.
For Serra's girls, Alyjah Kennedy finished ninth in the Invitational triple jump at 36 feet, 10 ¼ inches on Saturday and was third in the Open long jump with a leap of 17-1 1/4 on Friday.
Jeanette Paul placed eighth in the girls' Invitational 100-meter hurdles clocking 14.48 and the Cavalier boys' 4×100 relay team took fifth in the Invitational in 42.42. Both were on Saturday.
The meet, though, was highlighted by Carson's Ashley Anderson who recorded the United States' best prep triple jump at 41-2 1/2. She did the feat on her sixth try.
In the South Bay Championships Saturday at West Torrance High, North Torrance recorded a triple jump sweep as Ira Moore won the boys' competition at 41-10, and Jasmine Bass won the women's division with a mark of 37-1.
Also for the boys, Torrance had a winner in the 300-meter intermediate hurdles from Jeremiah Peoples timing 39.57.
For the girls, South Torrance junior Kimberly Coscia, a California state finalist last season, won the 3,200-meter run with a meet record time of 10:43.31. The Spartans also had a win the 100 by Alexis Henry in 12.45 and their 4xr400-meter relay team clocking 4:08.21.
Carson had a win by Kristina Gumbs in the 100 hurdles at 15.46.
Neither Serra nor Gardena had any athletes involved at the South Bay Championships.
__________________________________________
Hadley coaches Southern Section stars to win over L.A. City
By Joe Snyder
GVN Correspondent
Serra High head girls' basketball coach guided the CIF-Southern Section All-Star team to an easy 76-43 win over the CIF-Los Angeles City Section last Saturday at Redondo High.
Serra had Washington State-bound Caila Hailey and Cydney Bolton involved and both contributed very well. De Moria White, who had 38 points in St. Bernard's 71-50 Del Rey League loss to the Cavaliers in Del Rey League play this past regular season, led the Southern Section with a game-high 18 points.
Also shining for the Southern Section front court was forward Janelle Odionu of Bishop Montgomery, who will be playing at Ivy League college Cornell next season.
Narbonne's Jade Everage was a key player for the City stars but her biggest achievement came on the academic side where she received the Albert "Cap" Lavin Scholar Athlete of the Game Award for her 4.2 grade point average in the classroom.
Meanwhile, Hailey and University of Southern California-bound Chyanne Butler were both selected as the Daily Breeze South Bay co-Players of the Years.
Bolton and junior guard-forward Nautica Morrow both were on second team all-area.
Also making all-South Bay first team included junior guard Christina Delapina (Bishop Montgomery), junior guard-forward Kayla Sato (West Torrance), junior guard LaTecia Smith (Narbonne) and sophomore point guard Hayley Tanabe (West Torrance).
West, which won the Southern Section Division IIA crown over Placentia El Dorado and made it to the Southern California Regional Division II championship game before falling to eventual California State champion West Hills Chaminade, also had junior forward Kylie Fujioka and freshman forward Jasmine Jones make second team.
Southern Section Division IVAA champion and regional quarterfinalist Bishop Montgomery landed junior guard-forward Chelsea Lidy on second team, as did sophomore guard Tiara Scott from North Torrance, Southern Section Division IIA semifinalist which lost to West.
West Torrance head coach Mike Caporaso, who had his Lady Warriors win their first Southern Section title, was Coach of the Year.
For the boys, Bishop Montgomery guard Justin Bibbins, who was South Bay Player of the Year, played for the Southern Section which rolled over the L.A. City stars, 110-86.
Bibbins was also the game's Most Valuable Player by getting 17 points and six assists. The Southern Section's top scorer was McDonald's All-American Tim Welch with 18 points. Welch, a seven-footer, also gathered seven rebounds.
The City Section was led by Cameron Young from runner-up Westchester (head coached by former Gardena High boys' basketball standout Ed Azzam) with 17 points. The Comets were L.A. City runner-ups after narrowly losing to Woodland Hills El Camino Real, 58-56, in the championship on March 8 at L.A. Southwest College but made the Southern California Regional Open Division finals before falling to Santa Ana Mater Dei, ranked No. 1 in the United States Max Preps Xcellent 25 poll, 59-54, on March 22 at the Citizen's Bank Arena in Ontario. The Monarchs, led by National Player of the Year Stanley Johnson, won their fourth consecutive state Open Division crown over Oakland Bishop O' Dowd, 71-61, on March 29 at the Sleep Train Arena in Sacramento.
Bishop Montgomery recorded a top honor sweep in the Daily Breeze All-Star team, had Bibbins as Player of the Year and head coach Doug Mitchell as Coach of the Year. The squad returned just two players and had just one senior in Bibbins. The Knights crushed Hayward Moreau Catholic, 85-44, for the state Division IV title on March 29 in Sacramento.
Also from Bishop Montgomery, junior guard Stephen Thompson, Jr. made first team and his freshman brother, Ethan, was on second team. Both are sons of former Crenshaw High, Syracuse University and NBA Sacramento Kings standout Stephen Thompson, Sr., now head men's basketball coach at Cal State Los Angeles.
Serra had three players make the team, two of those on first team. Those were senior forward Tavrion Dawson and senior guard-forward Ronald Freeman. Dawson will be playing at Cal State Northridge, while Freeman will be at Cal State Fullerton next season.
Also for the Cavaliers, senior guard Jason Richardson made second team.
CIF-L.A. City Section runner-up Narbonne, which had a narrow 62-58 semifinal loss to Westchester, had senior guard Reverend Maduakor make first team and senior guard Uchenna Okeneme land on second team.
North Torrance, which lost in the Southern Section Division IIA quarterfinals, had senior guard Koh Flippin make first team and senior center Mo Nwodili land on second team.
_____________________________
Serra softrbal team still struggling
Serra's mostly young and inexperienced softball team fell to 0-5 in the Camino Real League after falling short of St. Monica High from Santa Monica, 6-4, on April 15 at Serra.
Despite the loss, Leslie Bacon had a fine game going 3-for-4 and drove in two runs. Nina Roebuck added a two-run triple.
The Lady Cavaliers, who made it to the CIF-Southern Section Division VII finals before losing to league foe Montebello Cantwell-Sacred Heart eight years ago, have only four seniors on the squad, including pitcher Diana Barba and center fielder Candice Parker.
"The rest of our team is all young," Serra head coach Calvin Spencer said.
After Easter Break this week, the Cavaliers resume play with a non-league game against Southlands Christian from Walnut next Monday before returning to league against Mary Star at the San Pedro Softball Complex on Tuesday. Both games begin at 3:15 p.m.
— Joe Snyder