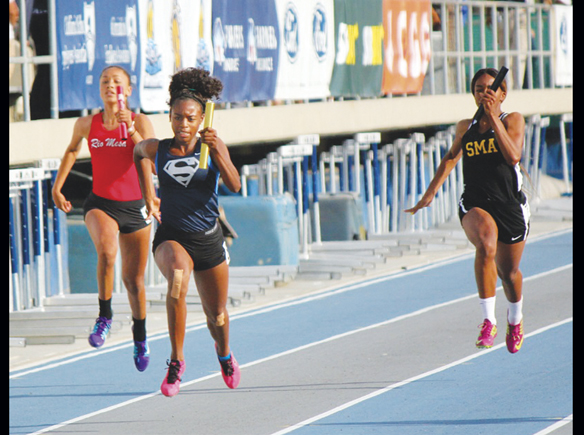 Serra High's girls' track and field team had a relay, a sprinter and a hurdler advance to Friday and Saturday's California State Championships after strong showings in last Saturday's CIF-Southern Section Masters Championships at Cerritos College.
Serra High's girls' track and field team had a relay, a sprinter and a hurdler advance to Friday and Saturday's California State Championships after strong showings in last Saturday's CIF-Southern Section Masters Championships at Cerritos College.
Senior Jaela Williams and sophomore Jasmin Reed were the sparks for the Lady Cavaliers. Williams may have not been at her best as she had a personal record of 13.69 in the 100-meter hurdles she did last year. Williams, who was a junior at Roosevelt High in Eastvale (located between Corona and Riverside), won last season's 100 hurdles CIF title.
Williams transferred to Serra from Roosevelt over last summer but she still managed to advance to the state meet after a fifth place finish at 14.28 seconds in the Masters. The top six competitors, along with others who have qualifying marks and times, advance to the state championships, which will be Friday and Saturday at Buchanan High's Memorial Stadium in Clovis. Friday's prelims begin at 1:30 p.m. and Saturday's finals start at 4 p.m.
Reed finished sixth in the 100-meter dash clocking 11.82.
Both also keyed the Cavaliers' 4×100-meter relay team into the state meet after placing third in 46.27. Other runners included Madison Golden and Morgan Pecanette.
Other locals also advanced to state. Bishop Montgomery senior Tessa Allen moved on state after taking third with a leap of five feet, five inches. Kimberly Coscia from South Torrance also made the state meet after a seventh place in the 3,200-meter run with a state qualifying time of 10:34.
__________________________
Carson sweeps L.A. City Championships; Macias finishes fourth
By Joe Snyder
Sports Editor
Carson High is showing that it is a top CIF-Los Angeles City Section track and field program.
For the second straight season, the Colts swept the City in both boys' and girls' divisions. For Carson's boys, it topped another top power, Dorsey, 65-58, for the crown last Thursday at Cerritos College.
The Lady Colts won over second place Palisades 116.5-107.
Carson's boys were led by senior Justin Collins who swept the hurdles. Collins won the 110 highs at 14.38 seconds and the 300 intermediates clocking 37.13. A week earlier at the City Prelims, Collins recorded a personal best time of 36.76 seconds.
Collins also led the Colts' 4×100 relay team to victory in 41.91.
Junior Ryan Hall captured the 200-meter dash timing 21.48 and was third in the long jump with a leap of 21 feet, 6.75 inches.
Also for Carson, Brenden Scott won the triple jump at 46-5.5.
All qualified for Friday and Saturday's California State Championships at Buchanan High's Memorial Stadium. Friday's prelims begin at 1:30 p.m. and Saturday's finals start at 4 p.m.
Gardena had only one varsity qualifier in the City finals in junior Christhian Macias, who, last fall, was the Marine League boys' cross country champion and keyed the Panthers into the L.A. City Division II finals. He placed fourth in the 800 in 1:58.11. Macias, however, missed the cut for the state meet.
In the girls' division, junior Jeannette Paul picked up two individual wins in the 100 (12.31) and 300 hurdles (43.31). Paul also keyed Carson's 400 relay to a second place finish clocking 48.13.
Sophomore Crystal Washington was the Colts' other winner in the triple jump at 36-4.25.
Mylia Gray finished second in the 100 hurdles clocking 15.4.
___________________________
Sports Scoop
Goodbye Hollywood Park; L.A. has three chances to get NFL franchise
By Joe Snyder
Sports Editor
Nearly a year and a half after Inglewood's Hollywood Park saw its final horse race, demolition crews finished off the stadium as it was imploded early Sunday morning.
The facility, which opened in 1938, saw numerous top horses and jockeys, including 1977 Triple Crown winner Seattle Slew and starting with Sea Biscuit, along with legendary jockeys Willie Shoemaker and Laffitt Pincay, Jr.
The facility is finished off and St. Louis Rams owner Stan Kroenke is seeking to bring the team back to Los Angeles, where it played from 1946-94 (1946-79 at the L.A. Memorial Coliseum and 1980-94 at Anaheim Stadium (now Angel Stadium).
There are three teams; all who one time played in L.A., seeking the move but, at least hopefully, no more than two come here. Of course, L.A. needs a National Football League team.
Inglewood is in competition with Carson, which could host the Oakland Raiders and the San Diego Chargers. The Raiders played at the Coliseum from 1982-94, before moving back to Oakland, where it originally played in from 1960-81. The Chargers played their first season at the Coliseum in 1960 before moving to San Diego a year later. The Chargers played six seasons (1961-66) at Balboa Stadium on the campus of San Diego City College before the completion of Qualcom Stadium (originally San Diego Stadium) in 1967. That 48-year-old facility is aging and the Chargers know that it is time for a new stadium; either in San Diego, Carson or Inglewood.
Interestingly, both Carson and Inglewood are good choices. The Carson facility would be about a mile from L.A.'s current soccer stadium, StubHub Center, and the Cal State Dominguez Hills campus. Inglewood's stadium will stand near the Forum, a former facility for the National Basketball Association's L.A. Lakers, National Women's Basketball Association's L.A. Sparks and the National Hockey Association's L.A. Kings. Today, it's been converted into a concert arena, but did host a few boxing matches. The refurbished facility, originally built in 1967 for the Lakers and Kings, re-opened with the rock band Eagles performing in November.
Inglewood mayor James T. Butts wanted the former Hollywood Park site to be a mixture of places, including commercial, residential, sports, entertainment and a park, and chances are good that it will be.
Carson's stadium is proposed to be in a now large vacant lot near the 405 Freeway.
The NFL commission, however, is not allowing any of the teams to relocate in L.A. until, at least, the 2016 season.
Meanwhile, another legendary L.A. sports venue could go into the history books soon. That is the 56-year-old L.A. Sports Arena, which has not hosted very many events recently, due to the prestigious Staples Center about three miles away and the University of Southern California Galen Center about a mile and a half from there. That is because L.A.'s expansion team, the L.A. Football Club, which will start its expansion season in Major League Soccer (Soccer is known as football in most of the rest of the world. In fact, it's called World Football.), is seeking to build a 22,000-seat stadium that is next to the Coliseum, a historic 92-year-old venue that still hosts USC football.
The Sports Arena opened in 1959 with the Lakers moving to the facility from Minneapolis starting the 1960-61 season. It also hosted the Clippers from 1984-99, Olympic boxing in 1984 and the Democratic National Convention that saw the late John F. Kennedy nominated as President of the United States in 1960. Kennedy would get elected with a close win over later U.S. President Richard Nixon in that year. He was assassinated in 1963. The late Reverend Martin Luther King, Jr. also gave a speech there in the early 1960's.
The Lakers played at the Sports Arena from 1960 until 1967, when the Forum was completed.
The Sports Arena also hosted numerous CIF-L.A. City, Southern Section and Southern California Regional boys' and girls' prep basketball championships. Both USC and UCLA basketball played there. The Trojans, in fact, played at the Sports Arena until the opening of the Galen Center a few years ago. UCLA used the facility in the 2012-13 season while waiting for the renovation of Pauley Pavilion to be completed.
We are in an era of big money ruling professional sports and they need the newest facilities that include luxury suites and other top state of the art facilities. Costs of attending sporting events are a lot higher than in the past, like virtually everything else.
In fact, the Atlanta Braves, who currently play at Turner Field that was originally built for the 1996 Olympics but part of that stadium was already demolished after only a few months in existence to reshape the facility into a baseball park, are expected to move to the new Cobb County Stadium (about 15 miles from Atlanta) in 2017 as Turner Field is doomed for demolition.
Built in 1962, Dodger Stadium is the third oldest stadium in Major League Stadium and, built in 1966, Angel Stadium is the fourth oldest and sources are that that could be gone as its lease is expected to expire after next (2016) season. There have already been a few sites proposed for a new stadium for the L.A. Angels. Part of the stadium, that was built in 1980 for the Rams where they played 15 seasons there, was already torn down to bring the facility back to its baseball look.
The oldest Major League ballpark is Boston's Fenway Park (1912) and the second is Chicago's Wrigley Field (1914) that are already more than 100 years old but continue to be the Red Sox and Cubs fans favorite, in order.
Carson falls in softball final: Carson High's softball team lost in the CIF-L.A. City Section Division I championship to Chatsworth 6-5 Saturday at Cal State Dominguez Hills.
The Colts came off back-to-back L.A. City crowns but the Chancellors led most of the game and Carson was unable to rally from a 6-3 deficit. The Colts scored twice in the bottom of the seventh only to fall one run short.
Carson ended its season at 26-6 while Chatsworth finished at 30-5.
Last Friday in the CIF-Southern Section Division IV quarterfinals, South Torrance moved on to the semis with a 5-4 win at Granite Hills in Apple Valley but Pioneer League and cross town rival West Torrance fell short to host Sunny Hills 3-2 in Fullerton.
The Spartans hosted Sunny Hills last Tuesday in the semifinal with a spot in the final Saturday at UC Riverside.
Torrance's softball team, meanwhile, recorded a key 2-1 home win over Santa Monica in its quarterfinal Thursday at Wilson Park. The Tartars played in the semifinals against Goleta Dos Pueblos on Tuesday at a site to be determined and is seeking to make the final Friday or Saturday at Barber Park in Irvine. Torrance is second seed, while Dos Pueblos is seeded No. 3.
Meanwhile, winning pitcher Marisssa Moreno broke the school record with 243 strikeouts this season. Her teammate Jade Arslanian also set the Torrance High record with her 10th home run that broke a 1-1 tie in the bottom of the fourth inning. That proved to be the difference in the game.