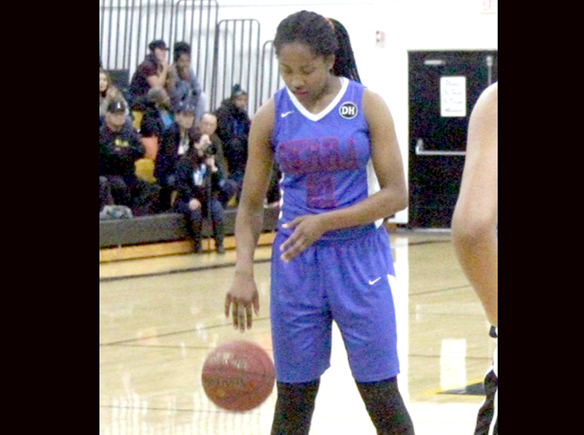 With Serra High's girls' basketball team winning the California State Division I title on March 23 with a 70-54 win over Sacred Heart Cathedral High from San Francisco, junior Alexis Tucker was named the CIF-State Division I Player of the Year by Maxpreps.
Tucker averaged 19 points and 13 rebounds a game in keying the Lady Cavaliers to their fourth state crown but first in Division I. Serra's other three state championships were in Division IV.
Tucker's was also on the third team overall all-state team. She was first team all-South Bay by the Daily Breeze and the Los Angeles Times all-area. She was also on the all-CIF Southern Section Open Division squad.
Also on the overall all-state third team and first team Division I was West Torrance senior Haley Jones. Jones was the Daily Breeze South Bay Player of the Year in keying the Lady Warriors to the CIF-Southern Section Division I championship with a narrow 46-45 victory over always powerful Chaminade from West Hills. Jones also made L.A. Times all-area. Jones, a senior, will resume her basketball at the United States Air Force Academy in Colorado.
Another top South Bay player to receive overall third team all-state honors was Redondo sophomore Alyssa Munn, who was also Division II Player of the Year. She helped the Lady Sea Hawks capture the state Division II crown with a 57-42 win over Pleasant Valley from Chico.
Bishop Montgomery junior Kayla Padilla was on honorable mention. She was also an all-CIF Southern Section Open Division, L.A. Times all-area and Daily Breeze all-South Bay. The Lady Knights won the Del Rey League over Serra, which failed to win a league title for the first time in five years.
Gardena's Cierra Randle landed on the second team all-state Division V team. Randle was CIF-Los Angeles City Section Division III Player of the Year in keying the Panthers to the championship by rolling over Jefferson 59-36 on March 1 at the Roybal Learning Center in Downtown L.A. Randle averaged 13.8 points, 4.2 rebounds and 2.6 steals per game. Gardena advanced to the Southern California Regional Division V playoffs, defeating Pius X-St Matthias of Downey but falling short to Brethren Christian from Simi Valley 59-56, in the regional quarterfinals. Demo sophomore sensation Kayla Buffington, who averaged 28 points, six rebounds, five assists and five steals per contest, also was on the all-state Division V squad.
Overall and State Open Division Player of the Year was Charfisma Osborne from Mar Vista Windward. Osborne keyed the Wildcats to the CIF-State Open Division crown by defeating Pinewood High from Los Altos Hills. Osborne was also the L.A. Times and CIF-Southern Section Open Division Player of the Year.