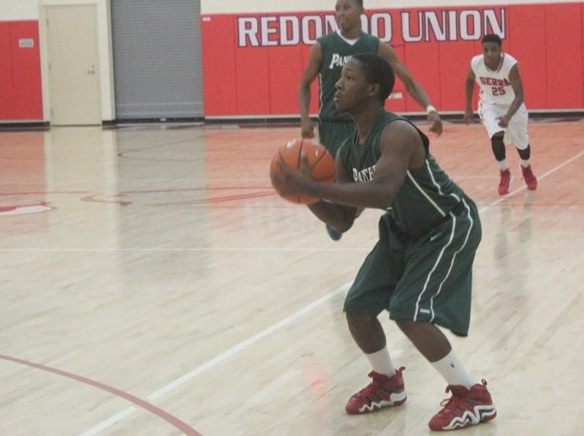 Serra High's boys' basketball team placed third in the Redondo Pacific Shores Tournament after winning three of four games there last week.
Serra High's boys' basketball team placed third in the Redondo Pacific Shores Tournament after winning three of four games there last week.
On Nov. 26, the Cavaliers topped Tesoro, 52-43. On Nov. 28, Serra rolled over cross town rival Gardena, 57-33. Shortly before its football team played Mission League rival West Hills Chaminade for the CIF-Southern Section Western Division championship, Serra squared off against CIF-Los Angeles City and California state power Westchester but fell on the short end of a 60-45 score. On Saturday, the Cavaliers rallied in the final three minutes to top host Redondo, 62-56.
Against the Sea Hawks, who are attempting to get things turned around under first year head coach Reggie Morris, Jr., the Cavaliers led most of the game, including by 11 points midway in the third quarter, but saw Redondo (2-2) came back for a five-point lead (54-49) with just over three minutes left.
That's when Ajon Jefferson started Serra's game-ending 13-2 run with a three-point basket to cut the Sea Hawks' lead to two points, then Tavrion Dawson scored and was fouled. He made the free throw to give the Cavaliers the lead for good.
Jefferson, a six-foot junior forward, sparked Serra (3-1) with 19 points. Sophomore forwards Ellis Salahuddin and Cedric Thomas each added nine points.
The Sea Hawks were led by junior guard Ian Fox with 19 points and senior guard Derek Biale with 14.
Serra's mostly young squad went up against Westchester but could not keep up with the Comets, who should, along with CIF-Southern Section powers Long Beach Poly and Santa Ana Mater Dei, should be among the top contenders for the 2012-13 California State Division I championship.
The Cavaliers made 20 turnovers.
Dawson led Serra with 11 points and seven rebounds and Jefferson chipped in nine points. Six-foot-10 senior center Emmanuel Ndumanya, the Cavaliers' only returning starter from last year's CIF-Southern Section Division IVAA championship squad and Southern California Division IV finalist, contributed seven points and four rebounds.
After topping Tesoro on Nov. 26, Serra got to face cross-town rival Gardena in its second game. The Cavaliers surged out to a 24-8 lead and led, 42-18, after three quarters in the rout.
Jefferson sparked Serra with 11 points, followed by Thomas with eight and Dawson with seven.
The Panthers (2-3) were led by Jalen Baldwin with eight points. Eric Gabrourel had seven points and Rudy Bell put in six.
Gardena, which went 0-2 in pool play that included a 59-42 loss to Tesoro from Rancho Santa Margarita in the first game on Nov.27, came back and topped Rancho Christian High, a new private high school based in Temecula that is fielding varsity boys' basketball for the first time and has no senior class, 59-52, last Thursday.
The Panthers started slow trailing by 12 points (32-20) before coming back to outscore the Eagles, 39-20, in the second half.
Bell led Gardena with 14 points, followed by Gabrourel with 13 and Deshaun Brown, 12.
In a non-league game at Garfield in East Los Angeles on Nov. 26, the Panthers routed the Bulldogs, 65-42.
Brown led Gardena with 16 points. Gabrourel tallied 14 points and 15 rebounds. Sophomore guard Christian Carating totaled 12 points and Bell added 10.
Head coach Andre Hilliard is optimistic for a good season for the Panthers. They return three starters in Carating, Baldwin and Gabrouel. Sophomore Shane Carez and senior Tyree Simmons, who stood out on the Panthers' football team over this past season, are also expected to start, according to Hilliard.
"I'm looking forward to our seniors," Hilliard said. "We have a good group coming back."
The Panthers host Redondo in a non-league game Friday at 7 p.m. before beginning Marine League play at home against Banning next Wednesday at 5:30 p.m.
Serra is currently playing in another highly regarded tournament in the Westchester Tip-off Classic where it opened against Compton Centennial last Monday. The tournament lasts through Saturday.