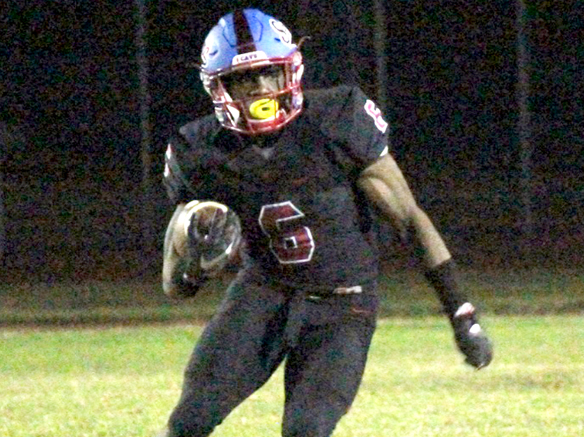 Serra High's football team was in its second consecutive non-league nail biter last Friday night at home in an intense rivalry against Narbonne, the South Bay's top two teams.
After an inspiring come-from-behind 29-25 win over host Long Beach Poly on Sept. 7, the Cavaliers were in a see-saw battle against the Gauchos, in which South Bay football fans can call prep football's version of University of Southern California versus Notre Dame.
In the end, Narbonne took advantage of a missed point after touchdown by Serra kicker Jailen Mathis as sophomore running back Marcesse Yetts tied the game at 26 on a 13-yard touchdown run, followed by the winning extra point from kicker Ricky Martin to give the Gauchos a 27-26 double overtime victory.
The game was tied at 20 in regulation after Serra tied the game with 3:20 left when junior quarterback Doug Brumfield threw a short pass to junior wide receiver Lavon Bunkley at the Narbonne 1-yard line. Gaucho defenders appeared to pressure Bunkley behind the line of scrimmage but he was able to dash to the left sidelines around them and score the tying touchdown. Mathis had his point after touchdown attempt blocked.
Narbonne tried to pull out the game at regulation driving to the Serra 40-yard line but time ran out and the contest went into overtime.
In the first overtime, each team ended their drives with interceptions.
The Cavaliers, though, took advantage of their interception on their second attempt. On the first play from the 25-yard line, Brumfield struck with junior wide receiver Ronald Gilliam to give them a 26-20 lead. Mathis' extra point attempt, however, fell wide to the left giving the Gauchos the opportunity for their third straight win over Serra. It started when quarterback Jaylen Henderson found Alonso Person for a 7-yard gain. Henderson followed with a 5-yard run putting the ball at the 13 and Yetts successfully completed the drive scoring from there. Martin, a key member of Narbonne's boys' soccer team who is playing his first season on the Gauchos' football squad, made the PAT as Narbonne players ran on the field for the big celebration.
"The kids came in and fought to the end," Narbonne head coach Manuel Douglas said. "We had a great game plan. Henderson had a great night."
Serra scored first early in the game when Brumfield completed a 13-yard TD pass to Bunkley but the Gauchos tied the game later in the first quarter.
Narbonne took a 13-7 lead early in the third period when Steve Jenkins, on a halfback option, completed a reverse pass to Eren East but the Cavaliers came back for a one-point advantage when running back Jaylon Armstead scored on a 25-yard run with 8:44 remaining in the third period. The Gauchos took a 20-14 lead with 4:38 to go in the quarter when Henderson scored on an 8-yard run.
Brumfield continued to have a strong performance completing 32 of 54 passes for 373 yards and three touchdowns.
"It was a great game," Serra assistant coach and athletic director Josh Nabs said. "Hopefully our young guys can learn from this (a game where they made several critical mistakes). We play Cathedral next week (on Friday) and we got to bounce back. We got to improve."
The Cavaliers, who fell to 2-2, will host a very good Phantom squad Friday at 7 p.m. Cathedral is currently ranked sixth in the CIF-Southern Section Division II and is 3-1. Among the Phantoms' wins was a 42-0 victory over another CIF-Los Angeles City Section Marine League power, Carson, on Aug. 30. It will be a tune-up before Serra begins the Mission League at Notre Dame High in Sherman Oaks on Sept. 28.
Narbonne closes non-league at home against Lawndale, which has enjoyed success under head coach Travis Clarke, Friday at 7 p.m. The Cardinals are 3-1 after blowing out another top L.A. City Section team, Crenshaw (last season's L.A. City Section Open Division runner-ups to Narbonne), 47-7 last Friday at Lawndale. Lawndale is led by USC-bound running back Jordan Wilmore. The Cardinals are currently rated fourth in the Southern Section Division V. The Gauchos begin the Marine League at Banning High on Sept. 28.