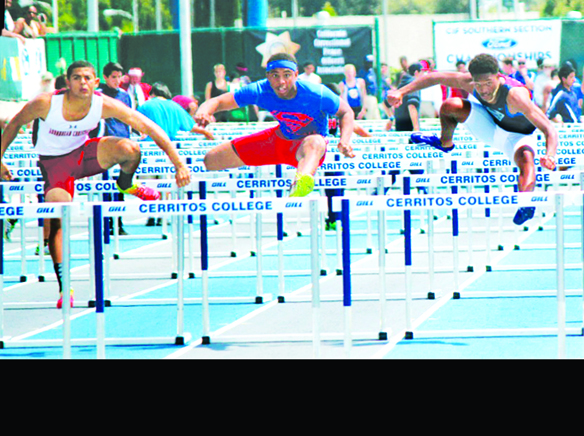 This season's version of the Serra High track and field program is mostly young with little experience but it has progressed as the season went on.
This season's version of the Serra High track and field program is mostly young with little experience but it has progressed as the season went on.
Unlike the recent past where the Cavaliers dominated the CIF-Southern Section Division IV and even won some California State Championships, including their girls in 2012 and boys in 2013 under then head coach Lori Thompson, Now under head mentor Chris Faulknor, Serra failed to win a CIF title but its boys narrowly missed it as they finished second behind Ojai Nordhoff with 47 points Saturday at Cerritos College. The Rangers won the title with 53 points and the Cavalier boys were able to receive the runner-up trophy.
On the girls' side, as expected, Westlake Village Oaks Christian ran away with the crown with 131 points to 44 for second place Inglewood St. Mary's Academy. Serra managed to finish fourth with 37 points.
Senior Jaela Williams recorded her personal best time of 13.96 seconds in winning the 100-meter hurdles on a cool and windy day.
Williams was the Cavaliers' only individual winner but others placed well with a few others headed to Friday's CIF-Southern Section Masters Championships at Cerritos College with field events beginning at 4 p.m. and running events starting at 6 p.m.
Both Serra girls' 4×100 and 4×400-meter relay teams finished third. The Lady Cavaliers' 400 relay squad of Madison Golden, Williams, Kayla Pickens and Jasmine Reed had a fine time of 46.85 seconds to place behind champion Oaks Christian with an overall meet best time of 45.75 and second place St. Mary's clocking 46.69.
Serra's 1,600 relay of Reed, Williams, Pickens and Golden completed the race in 3:57.14 to finish behind the winning Lions (3:49.4) and runner-up Belles (3:54.67).
The Cavaliers' time in the 4×100 was good enough to advance to the Masters. It was the sixth best overall behind Oaks Christian, Division I champion Long Beach Poly (46.22), Upland (46.32), St. Mary's and Walnut (46.82).
Reed, a sophomore, had a pair of fourth place finishes in the 100- and 200-meter dashes timing 11.81 and 24.1, in order. Reed advanced to the Masters in the 100 as the last (ninth place in combined divisions) qualifier.
Golden recorded a sixth place finish in the 200 (24.63) and seventh in the 100 (12.02).
Serra's boys were led by their 4×100 relay of Zinovian Cannady, Tyron Johnson, Cameron Hayes and Malik Roberson who won Division IV clocking 42.52, to defeat runner-up Oaks Christian (42.71) and third place Pasadena Muir (42.92). The Cavaliers advanced to the Masters.
The Cavalier boys also scored 14 points in the 110-meter high hurdles behind second and third place finishes from senior Cannady (14.98) and freshman Jaiden Woobey (15.01), respectively.
Johnson had a fourth place finish in the 400 (50.48) and sixth at the 200 (22.23).
Serra's 4×400 relay team, which included Cannady, Johnson, Akinyele Turner and David Hawkins, placed third at 3:26.21.
In the 300 hurdles, Turner took sixth at 41.20.
Bishop Montgomery also had a girls' high jump co-champion by Tessa Allen in Division IV with a leap of five feet, five inches. She advanced to the Masters. The other top Knight was sophomore Jade Murray in the girls' triple jump who took seventh at 35-7.
South Torrance standout girls' distance standout Kimberly Coscia had a Masters qualifying third place finish in the 3,200 meters (10:38.78) in Division II. It was the sixth best time overall. She took seventh in the 1,600 in 4:56.51.
____________________________
Gardena Baseball
Grant makes quick work of Gardena
By Joe Snyder
Sports Editor
Gardena High's baseball team struggled most of the season but, with two Marine League wins over last place Washington which was for the mythical Marine Division II title, made the CIF-Los Angeles City Section Division II playoffs.
On May 19, the Panthers began in the playoffs as the No. 5 seed and hosted No. 12 Grant from Van Nuys but it was the Lancers that blew away host Gardena 14-0 in a five-inning mercy rule.
Grant took a 4-0 lead after two innings but finished off the Panthers by scoring six runs in the top of the fourth inning and added four in the fifth and Gardena's season came to a quick end with a 7-9 overall record in a game that took just one hour and 25 minutes. All seven of the Panthers' wins were against City Division II and III teams.
The Panthers were unable to muster much against Lancer pitchers Adeadan Medina and Aaron Garcia who combined for a two-hitter and six strikeouts. Francisco Pech and Ralph Garcia had the only hits, both being singles, for Gardena.
"We were just blown out," Gardena head coach Rick Romero said. "The kids were not up to par. Grant came out very aggressive. They were just as hungry as us. We didn't know how to bounce back."
Offensively, the Lancers (10-12-1 after losing in the quarterfinals to South Gate Friday) were led by Oscar Velasquez who went 3-for-4 with six runs batted in.
______________________________
Gardena Softball
Lady Panthers fall to Van Nuys in quarterfinals
By Joe Snyder
Sports Editor
Gardena High's softball team ended its season with 15-2 loss to host Van Nuys in the CIF-Los Angeles City Section Division III quarterfinals last Friday.
Coming off an impressive 8-4 first round victory at Los Angeles High on May 19, the Panthers scored first in the top of the first inning but it was the third seed Wolves that proceeded to score 13 unanswered runs, including eight in the bottom of the second, as Gardena players were only to see their season come to an end at 4-15-1 overall after going 2-8 in the rugged Marine League, led by the L.A. City Division I's top seed and defending champion Carson. Gardena's only league wins were against Washington.
The Panthers scored another run in the top of the sixth before Van Nuys added two more in the bottom of the inning.
Against sixth seed L.A. High, the 11th seed Panthers had a strong performance by winning pitcher Jessica Handa. She drove in two runs.
Kianna Sanchez added three runs batted in.
__________________________________
Serra Softball
Lady Cavs lose to Sierra Canyon in 10 innings
By Joe Snyder
Sports Editor
Serra High's softball team put up a good fight only to see its season come to an end with a 10-inning 7-5 loss to Sierra Canyon from Chatsworth in the first round of the CIF-Southern Section Division VI playoffs last Thursday at Serra.
The game was close throughout as each team traded runs in the fourth and fifth innings and the Cavaliers taking a 4-3 lead after six.
The Trailblazers scored in the top of the seventh to tie the game and Serra was unable to get back in the bottom of the inning and the game went into extra innings.
Sierra Canyon proceeded to score three runs off losing pitcher Erika Dominguez in the top of the 10th and the Cavaliers were able to get only one back in the bottom of the inning.
Dominguez pitched all 10 innings, allowing seven earned runs on 10 hits. She struck out 10 batters but walked 11. With the bat, Dominguez went 2-for-5 with two runs batted in and a run scored.
Dammaria Essley was 4-for-5 with two runs scored and Leslie Cooper went 2-for-4 with one RBI and one run.
The loss ended Serra's season at 14-9 overall. The Cavaliers placed second, behind champion Long Beach St. Anthony, in the Santa Fe League at 6-2.